Johnson, Samuel (1848-1920)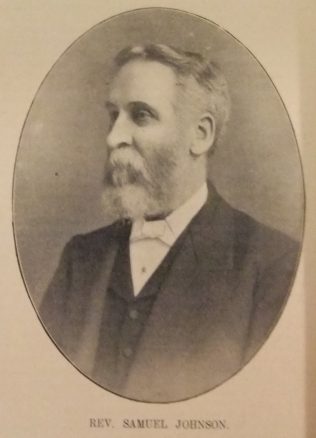 Early years
Samuel was born on 11 August 1848 at Colchester, Essex, to parents Joseph Peter and Martha. Joseph was a gardener and Marta worked as a tailoress.
Samuel attended a 'national' school until the age of twelve. Scholars were compelled to attend the Anglican Sunday School. Christened in the Artillery Street PM Church, Colchester, Samuel refused to learn or repeat the Anglican Catechism, a course of action that subjected him to punishment and persecution as a child.
Samuel was converted at the age of twenty-one in February 1869, and began to preach six months later. He worked as a gardener before entering the ministry.
Ministry
So intensely eager to bring to his ministry the very best, Samuel acquired a working acquaintance with the Hebrew and Greek languages. His preaching was ever evangelical and practical, yet he was always open to new light that was reliable and made the Book more precious to him.
For ten years, Samuel was Secretary of the Liverpool District Building Committee and for five years was Secretary of the Local Preachers' Training Committee.
The Conference of 1919 appointed George Lee as treasurer of the Superannuated Ministers', Widows, and Orphans' Fund. Unfortunately George died shortly after that appointment and Samuel stepped into the role. Unfortunately Samuel himself was only to serve a few months.
Samuel was fond of gardening, and had a considerable knowledge of flowers. However, his foremost hobby was playing chess.
Family
Samuel married Mary Anna Nuth (b1849) in the summer of 1876 in the Keynsham Registration District, Somerset. Census returns identify one daughter.
Martha Louisa (1877-1962) – a teacher; married John Tunley, a clerk, in 1903; married Arthur Vondy Kinnish, a baker and flour dealer, in 1914
Samuel died on 13 May 1920 at Thornton-le-Fylde, Lancashire.
Circuits
1872 Bath
1873 Alveston
1875 Kingswood
1876 Frome
1879 Redruth
1880 Kingswood
1881 Mangotsfield
1882 Sowerby Bridge
1885 Helmshore
1888 Rochdale
1891 Buckley
1896 Liverpool II
1900 Chorley
1903 Blackburn
1909 Widnes
1914 Fleetwood (S)
References
Primitive Methodist Magazine 1909/969; 1919/882; 1920/726
PM Minutes 1920/254
W Leary , Directory of Primitive Methodist Ministers and their Circuits , 1990
Census Returns and Births, Marriages & Deaths Registers