Davies, Edward (1847-1922)
Of Liverpool I Circuit.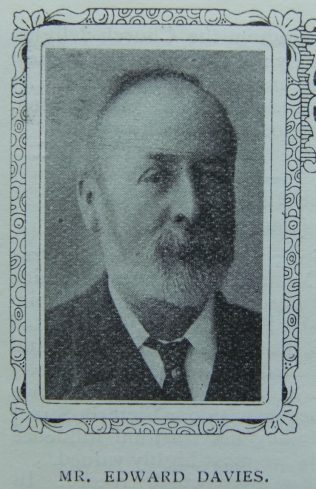 Transcription of 'Sketch' in the Christian Messenger 1907
Mr. Edward Davies joined our Church at Oswestry in his fourteenth year. For over forty years with great distinction he has fulfilled his ministry as a local preacher. During the thirty five years he has been in Liverpool he has rendered distinguished and varied service at Bootle, Aintree, and Princess Avenue. As a local preacher he is popular with other Churches as well as our own. His grip of evangelical truth, command of good English, lucid and refined style, pleasant voice, spiritual insight, broadmindedness and unaffected piety account for his popularity. He is a most valuable official – cautious, tactful, conscientious, business like. He has the saving gift of humour which plays like sheet lightning through his conversation. He is of the noble army of encouragers and no harsh judgement ever falls from his lips. As Mr. W.P. Hartley's representative in Liverpool, he occupies an important position in commercial circles. He there commands universal confidence and respect, and is a "gentleman always and everywhere." No prize that life could offer would be of much worth to him if his devoted wife were not by his side to enjoy it. She has shared his devotion to the Church, equalled him in loving labours for its advancement, and, as he would say, excelled him in pride at its triumphs and progress. Their charming home has ever been a favourite haunt of ministers, and its generous hospitality extended to all sorts and condition s of men. If space permitted much might be said of our friend's aptitude for service among the young and the splendid work he has done in that department of our Church life.
J.W.
Transcription of 'Sketch' In the Christian Messenger 1912 – Society Steward
PRINCES AVENUE is exceedingly fortunate in its number of loyal and thoroughly efficient officers. One of the most honoured, as also one of the most gifted, is the subject of this sketch. His long and successful business training as Sir W.P. Hartley's representative in Liverpool, his thorough knowledge of our polity, gained in life-long and passionate devotion to our Church, his attention to and mastery of detail, mark him off as particularly fitted for this responsible position.
The result is seen in the easy mastery of all that pertains to his office. There is no haste nor delay. Nothing is overlooked. It is a pleasure to find how everything essential to the reverent and orderly conduct of the worship has been anticipated. His ability, his unobtrusiveness, his fine consideration of others, render fellowship with him a delight.
Like many another called to foremost positions in our Church, Mr. Davies is a product of village Methodism, and it is still his delight, on occasion, to visit and serve the churches of his favourite Shropshire. The beginnings of our Church at Aintree – later so conspicuously developed and served by our merchant prince, Sir Wm. P. Hartley – is due to Mr. Davies, who, with his devoted family, initiated the work there by services in an upper room. The loyalty this indicates is characteristic, and it has changed only to deeper. Mr. Davies would be the first to say he owes much to Primitive Methodism. The obligation is mutual. Primitive Methodism owes much to him. He is honoured in the city, amidst which he moves as one of its best known men. But he is loved by those of his own communion most of all.
H.].P.
Family and other information
Edward was born in 1847 at Ifton Heath, Shropshire, to parents Henry and Mary. Henry was a master tailor.
Census returns identify the following occupations for Edward.
1861 apprentice printer
1871 printer compositor
1881 commercial traveller
1891 commercial traveller
1901 commercial traveller
1911 retired commercial traveller (preserves)
Edward married Mary Price (1849-1927) in the spring of 1871 at Oswestry, Shropshire. Census returns identify five of six children.
Henry Price (1872-1942) – a commercial traveller
John Price (b abt1874) – a commission agent (1911)
Mary Louise (b1878)
James Alfred (1881-1971) – an insurance agent (1911)
William Edgar (b abt1887) – a municipal clerk
Edward died on 20 June 1922 at Liverpool, Lancashire.
References
Christian Messenger 1907/1
Christian Messenger 1912/72
Census Returns and Births, Marriages & Deaths Registers
https://www.escholar.manchester.ac.uk/api/datastream?publicationPid=uk-ac-man-scw:15m2143&datastreamId=FULL-TEXT.PDF Primitive Methodist Leader 29 June 1922 – death notice
https://www.escholar.manchester.ac.uk/api/datastream?publicationPid=uk-ac-man-scw:15m2144&datastreamId=FULL-TEXT.PDF Primitive Methodist Leader 6 July 1922 – obituary