Drinkall, John William (1845-1912)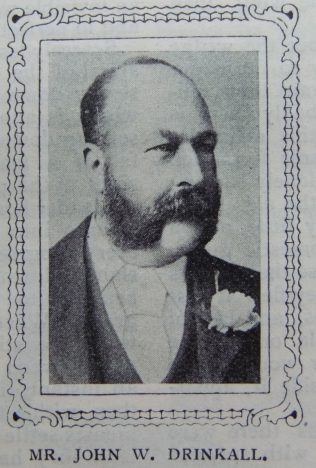 Transcription of 'Sketch' in the Christian Messenger
Amongst those who serve our Church as Society Stewards no one can have rendered more loyal service than Mr. J.W. Drinkall. Born in Winterton, of godly parents, he has been connected with our Church from his youth. Early in life he left home, and eventually commenced business in Brigg. Shortly after he was converted, and has since been an honoured member of our Bridge Street Church, Brigg. Quiet and unassuming, his preference is for service of a lowly kind. Yet many of the chief offices in the Church have been thrust upon him. He is Senior Circuit Steward, School Superintendent, Trustee, and Society Steward. And each position he fills with distinction. Our friend is thoroughly devoted to his Church constant and punctual at all its services. As a Society Steward, he is conscientious and careful in all business transactions, and attentive to the smallest details.
Mr. Drinkall has a large family, and all are following in the footsteps of the father, and serving in the Church in which they have been nurtured. He is a generous supporter of the Church, in all its activities. His home has always been open to the preachers, and every movement that means the advancement of the Kingdom of God has his heartiest support.
Mr. Drinkall has never been prominent in the higher Connexional Courts of our Church. There are many who can serve with greater efficiency in the pulpit and on the platform; but none could serve with greater fidelity than he. For twenty years he has proved himself a faithful Steward, and has won the love and esteem of young and old. Happy is the Church with such a leader. We trust that many years of fruitful service are still in store for him.
F.G.S.
Family and other information
John was born in 1845 at Winterton, Lincolnshire, to parents William and Mary. William was a letter carrier (1851). John was baptised on 4 May 1845 at Burton Upon Stather, Linconshire.
John worked as a grocer.
John married Betsy Ann Parker (1849-1924) in the spring of 1868 at Brigg, Lincolnshire. Census returns identify ten children.
Ada Mary (1869-1947)
Maud Matilda (1870-1932) – married Henry Thomas Barker, a bootmaker and repairer, in 1899
Flora Parker (abt1872-1927) – married James Alfred Boyce, a navy pensioner and watchman (1911), in 1892
Arthur Thomas (1873-1938) – a commercial traveller (1901)
Edgar John (1877-1951) – a grocery manager (1911)
William James (1879-1957) – insurance agent, Prudential, (1911)
Beatrice Alice (1880-1951) – married Arthur Ernest Addison, manager in lemon curd factory (1911), in 1904
Gerald Evelyn (1882-1935) – a commercial traveller; served in RN in WW1
Mabel Hilda (1887-1983) – married George Hall, a fish merchant, in 1910
Walter Charles (1888-1945) – a grocery manager (1911)
John died in April 1912 at Brigg, Lincolnshire.
References
Christian Messenger 1908/296
Census Returns and Births, Marriages & Deaths Registers