Gleghorn, George Brown (1850-1928)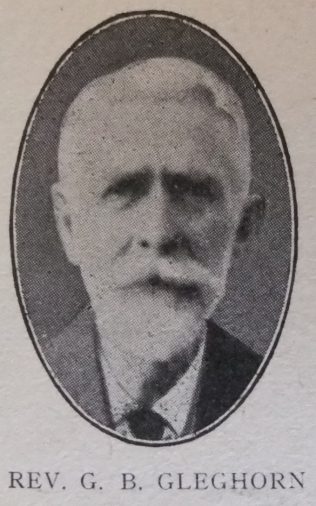 Early years
George was born on 6 August 1850 at Gateshead, Co Durham to parents Martin and Dorothy. Both parents were Primitive Methodists. The 1861 census shows Martin working as a foreman at the coke ovens.
When George was seven, the family moved to Canning Town in London. There they found a PM Society worshipping a cottage and at once threw in their lot with them. Subsequently a new chapel was built in Swanscombe Street, where the Gleghorn children were among the first scholars. During their association with the Swanscombe Street cause the family went without butter for a year in order to help with the funds. George gave himself to Christ when aged thirteen.
Later, the family moved to Poplar. George threw himself into church work, as a Sunday School official, organist and choirmaster, and then as a local preacher. There were proposals that he should enter the ministry, but marriage was being contemplated, so they were abandoned. In 1877, these proposals were revived by Rev R S Blair, who strongly urged George to take an appointment as a married hired local preacher at Ventnor. In due course George was accepted for the ministry and during his probation was transferred to Ryde to superintend the station.
Ministry
His obituary records that George's generosity was practical and systematic throughout his life. When the struggle was keenest he always set aside one tenth of his income for religious and philanthropic purposes.
George was never robust and after two years at Forest gate he was compelled to seek superannuation. For a while he resided at Forest Gate, but, for health reasons moved to Leigh on Sea in 1915. There he continued to serve the Southend on Sea circuit.
Family
George married Emma Colton (Abt 1854-1941) in late 1872 in London.
George and Emma had one adopted son Sydney F Gleghorn who was a teacher in 1911.
George died on 13 August 1928 at Leigh on Sea, Essex.
Circuits
1878 Ryde and Ventnor
1880 London VIII
1882 Poplar
1885 Caledonian Road
1888 Hastings
1890 Croydon
1893 Poplar
1896 Jersey
1901 W Ealing
1906 Peterborough
1911 Forest Gate
1913 Forest Gate (S)
References
Primitive Methodist Magazine 1913/126; 1929/309
PM Minutes 1929/266
W Leary, Directory of Primitive Methodist Ministers and their Circuits, 1990
Census Returns and Births, Marriages & Deaths Registers