Gladwin, Thomas John (1858-1925)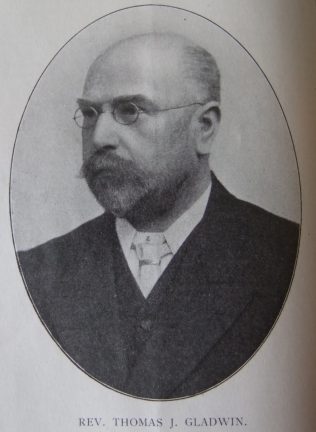 Early years
Thomas was born on 17 August 1858 at Shildon, Co Durham to parents Stephen Gladwin and Ann Duke. His mother was a step-daughter of Thomas Russell.
When he was eight years of age the family moved to Darlington where his father, originally a coal miner, had become the town missionary. The family became associated with the Rise Carr society. Thomas was one of the first scholars in the Sunday School and his conversion and early work as teacher and local preacher were all connected with that society. At the age of nineteen, Thomas was requested to prepare for ministry by Hugh Gilmore.
Ministry
His obituary records that Thomas won a great reputation as a preacher. He had a style all his own. Theological speculations had no attraction for him. His doctrines were rooted in experience.
His best circuit work was done at Harringay where he pioneered the erection of a new church and left a flourishing congregation.
Thomas spent some time as the Secretary of the Local Preachers' Aid Fund.
Thomas succeeded Robert Hind as Secretary of the Chapel Aid Association and Insurance Company in 1911, a role he held until his death.
Family
Thomas married Mary Ann Todd (1859-1922) in the summer of 1884 at Darlington, Co Durham. Mary was a grand-daughter of Rev Jonathon Clewer.  Census returns identify five of six children.
Beatrice Mary (1885-1963)
Eva Lilian (1885-1972)
Florence Elsie J (1893-1985)
Arthur Douglas (1895-1983) – a certified accountant (1925)
Albert Ewart (1897-1917) – killed in action in WW1
Thomas died on 21 February 1925 at York, Yorkshire.
Circuits
Sunderland
1880 London II
1882 Caledonian Road
1885 Poplar
1887 Sheffield V
1891 Scarborough
1894 Mexborough
1898 Harringay
1908 Luton
1911 York
References
Primitive Methodist Magazine 1915/590; 1922/587; 1925/584
PM Minutes 1925/253
B A Barber, A Methodist Pageant, 1932, p278
R Newman Wycherley, The Pageantry of Methodist Union, 1932, p174
W Leary, Directory of Primitive Methodist Ministers and their Circuits, 1990
Census Returns and Births, Marriages & Deaths Registers