Rous, Thomas Worrall (1818-1910)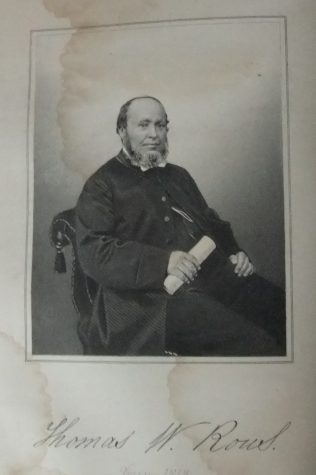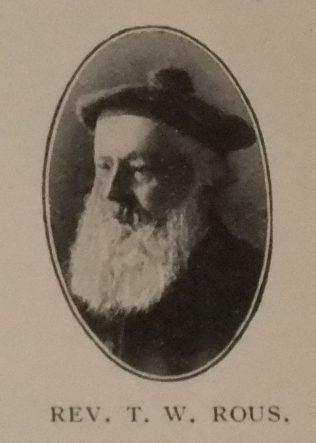 Early years
Thomas was born on 28 November 1818 at Westleton, Suffolk. He was converted aged 16 when the Wangford Circuit experienced a season of revival under the superintendency of Richard Howchin. A successful period as a local preacher led him to receive a call to the ministry in 1840.
Ministry
His obituary records that he had a magnificent voice, and his gift of song was used with effect in his services. His preaching was truly evangelical, and he was the means of bringing many hundreds into the Kingdom of God.
Family
Thomas married Catherine Turner Goodwin (1821-1889) on 26 August 1846 at Blything, Suffolk. Census returns identify seven children.
Sarah Merciena (1847-1916) – married Jonathan Dalgleish, a PM Minister
Catherine Elizabeth (1850-1853)
Emma Rebecca (1852-1880) – married John William Normandale, a PM Minister
John Goodwin (1853-1941) – a commercial traveller
Thomas Walter (1856-1872)
Samuel George (1859-1941) – a grocer
Betsey Kate (1861-1952) – a housekeeper
Thomas died on 17 May 1910 at Kirkley, Lowestoft,  Suffolk.
Circuits
1841 Wangford
1842 Wisbech
1844 Soham
1845 Lynn
1847 Docking
1849 Diss
1851 Aylsham
1853 Swaffham
1855 E Dereham
1857 Wangford
1860 Yarmouth
1862 Norwich
1865 Fakenham
1868 Lynn
1871 Cambridge
1873 Lowestoft
1875 Hadleigh
1877 N Walsham
1879 Lowestoft (S)
References
Primitive Methodist Magazine 1870 (portrait); 1892/243 (Catherine); 1910/651
PM Minutes 1910/30
W Leary, Directory of Primitive Methodist Ministers and their Circuits, 1990
Census Returns and Births, Marriages & Deaths Registers