Toyn, Joseph J.P. (1838-1924)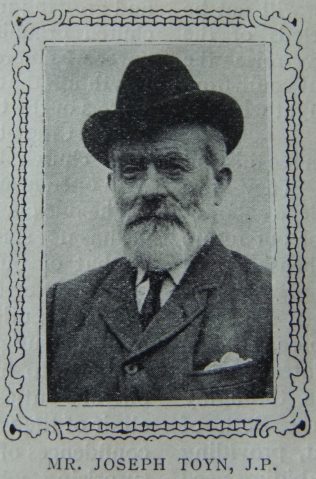 Transcription of  'Sketch' in the Christian Messenger
MR. TOYN was born at Tattershall, Lincolnshire, in the year 1838. His parents were of humble circumstances and at the tender age of six and a half years, our friend was engaged at 3d. per day "scaring birds" in the cornfields. At fourteen years he was employed as an agricultural labourer at 7d. per day. Mr. Toyn's advent to the Cleveland district of Yorkshire was in 1855. Here he worked in the ironstone mines for twenty years, never seeing daylight only at week-ends. His conversion occurred on his arriving at manhood, and he became a local preacher for a few years. Then a few years of apostasy occurred. This period is to Mr. Toyn a very regrettable one. However, a serious illness supervened, and under its chastening influence he was drawn back to spiritual things. His second conversion took place under his son, Rev. Joseph Toyn. Since this time, our brother has filled the offices of local preacher, class-leader, and he is a trustee of the handsome new church in process of erection at Saltburn. As a preacher he is intelligent, fervent and sincere. He emphasises the positive sides of truth and the facts of religious experience. In public life our brother has been the recipient of many honours. He was appointed miners' agent got the Cleveland miners in 1876. He has attended conferences of workers and trade congresses for thirty-five years. He has attended great demonstrations in France, Belgium and Austria. On industrial problems he has waited on four Home Secretaries and once interviewed Mr. Gladstone. He has been requisitioned to give evidence before several Royal Commissions on economic questions.
Family and other information
Joseph was born on 28 September 1838. Joseph was baptised on 11 October 1838 at Tattershall, Lincolnshire. The baptism register names only his mother, Eliza. In 1851, Joseph was living with an uncle.
Census returns identify the following occupations for Joseph.
1861 ironstone miner
1871 deputy in ironstone mine, rifle volunteer
1881 agent, Cleveland Miners Association
1891 ironstone miner's agent
1901 miner's agent
1911 agent for Cleveland Miners
Joseph married Mary Jane (1836-1914) circa 1861. Census returns identify five of six children.
Samuel Henry (1861-1861)
Caleb (abt1864-1903) – a telegraph clerk (Post Office)
William (b1865) – a junior clerk, land agent office (1881)
Jane Elizabeth (1867-1936)
Joseph (1870-1938) – a PM Minister
Joseph died in January 1924 at Saltburn by the Sea, nr Guisborough, Yorkshire.
References
Primitive Methodist Magazine 1925/66
Christian Messenger 1910/189
Census Returns and Births, Marriages & Deaths Registers
https://www.escholar.manchester.ac.uk/api/datastream?publicationPid=uk-ac-man-scw:15m2227&datastreamId=FULL-TEXT.PDF – Primitive Methodist Leader 7 February 1924, reporting on an appreciation published in The Times on 29 January 1924