Gaskell, Ann (nee Cox) (1840-1913)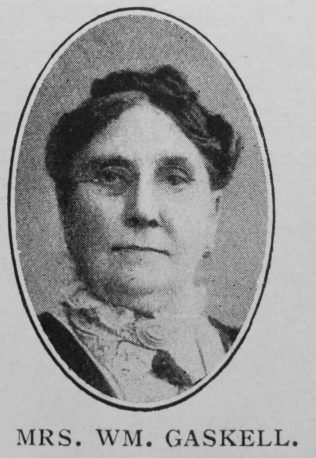 Transcription of obituary published in the Primitive Methodist Magazine by J.T.B.
By the passing of Ann, the dearly beloved wife of William Gaskell, the Church Street Church, Southport, in particular, and Primitive Methodism in general, has lost an old and genuinely devoted member. Born in Wigan seventy-two years ago, she there came to know Jesus Christ as her Saviour under the ministry of Primitive Methodism when she was about twenty years of age. From that time she remained a member of our Church. 
She did not appear on platforms or in the pulpit, but she made it all the easier for others to do so by her presence and prayers and sympathy. Many a minister and local preacher has found a cheery welcome at her hospitable table, and in many of the concerns of the Church her presence and power were felt. A woman of unimpeachable integrity, by her chaste life and conversation she made it easier for others to believe in Jesus.
The end came quite suddenly on May 11th of this year. Her mortal remains were laid to rest four days afterwards in the beautiful Southport Cemetery in the presence. of her husband and children and many sorrowing friends.
Family
Ann was born in late 1840 at Warrington, Lancashire, to parents Edward Cox, a labourer (1851), and Nancy Hayes. She was baptised on 11 December 1840 at Warrington.
She married William Gaskell (1839-1933), a coal miner (1861) and later an assurance superintendent for Prudential (1881), in the summer of 1859 at Wigan, Lancashire. Census returns identify nine of twelve children.
John (b abt1860)
James Thomas (b1864) – a clerk (1881)
Peter (1868-1872)
Benjamin (1871-1891)
Mary Alice (1874-1958) – married Albert Priestley in 1894
Elizabeth Hannah (1876-1963) – a music teacher (1901); married John Schollick Wilkin, a retired head postmaster (1939), in 1904
William Gladstone (1880-1904) – a commercial clerk (1901)
Beatrice Ann (1885-1956) – assistant teacher at private school (1911); married Stanley Maddock, a director of a copper boiler company (1939), in 1914
Gertrude (b1888) – assistant teacher at private school (1911)
Ann died on 11 May 1913 at Southport, Lancashire.
References
Primitive Methodist Magazine 1913/918
Census Returns and Births, Marriages & Deaths Registers
Note: Ann was born at Warrington, not Wigan as stated in the obituary. her husband was born in Wigan.