Grimoldby, William (1817-1904)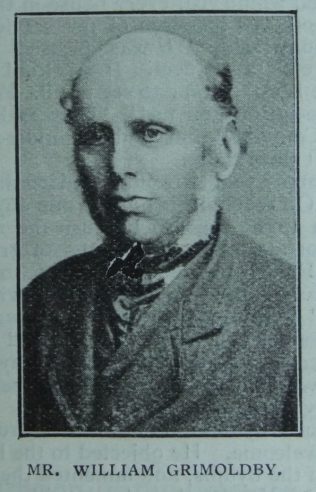 Transcription of 'Sketch' in the Christian Messenger by Rev. R.W. Keightley in the "Rough Diamonds I have Met" series
Situated about six miles from Grimsby, the village of Irby nestles in the eastern border of the Lincolnshire wolds. For many years Primitive Methodism has here had a church. Probably in no village society could be found a stronger array of outstanding personalities than Irby possessed. Messrs. W. Lusby, W. Grimoldby, and J. Taylor were all in the vigour of life and service when I first knew them thirty years ago. Mrs. Lusby and Mrs. Grimoldby were as striking "characters" as their husbands, To hear these worthies sing, pray, and narrate their religious experience was something to be remembered. Nor was it much less interesting to hear them discuss preachers, sermons, Circuit affairs and current events. Their talks were seasoned with the salt of robust sense and with sparkling humour. They were very "lively stones" in Christ's spiritual house.
Thanks to Mr. Lusby, who owned a small freehold property nearly a mile from the village, our people were able to build a comfortable chapel near his house. The owner of the village would not allow it to be disfigured by a Methodist sanctuary. Prior to the erection of the temple-on-the-hill, services were held in the house of Mr. and Mrs. Grimoldby, who like Aquila and Priscilla, sheltered "the church in their house." Miss Buck delivered the opening sermon in the new sanctuary and often has Mr. Grimoldby told of the wonderful sermon that Buck preached on the text "Worship God."
About twenty-nine years ago the chapel underwent a complete and rather costly renovation. At the re-opening meeting it was found that the whole expenditure had been met except a few shillings, whereupon the chairman observed, "I will give another half-crown, friend E — will give another, and friend Lusby another." To which the latter replied, "All right, my hearty," and the nasal tone and emphasis with which he spoke literally convulsed the crowded audience.
Quarterly meetings were not always so peaceable and orderly as they are to-day. On one occasion a very breezy discussion was proceeding, in which Mr. Lusby was taking a prominent part. In the midst of his speech the "timekeeper" called upon him to pray. He was no sooner up from his knees than he was again waxing warm in speech, when he was asked to pray a second time. He replied, "I shan't pray; I mean business this time."
But I am wondering from my subject. Mr. Grimoldby spent forty years at Irby, and the last twelve years of his life were spent at Laceby, only a mile away. He reached the ripe age of eighty-six years, and followed his old companions to heaven three years ago. He was a tall, strong, bony man, and lived a life of laborious days. He reared a family of five on the slender means which a village labourer of fifty years ago possessed. His house was a home for preachers for many years. The hospitality of his table, and of his thoughts, I, with many of my brethren, have enjoyed. "An old disciple with whom we did lodge" is a good Bible portrait of him. He enjoyed the fellowship of our church for fifty-nine years, and richly deserves a place of honour in the great army of village-heroes who have made it possible for our churches to live and prosper in rural England. Fearing God supremely, these men had no fear of intolerant squires and bigoted ecclesiastics.
A vivid reminder of the pain and hunger of Corn Law days found expression in a talk I had with him a few years ago. Mr. H. Chaplin, now an ex-M.P., was agitating for a five shillings duty on corn. My old friend was troubled. The prospect roused his ire. Said he, "Do you think they'll bring it aboot?" "Not in your time," I replied. "Well," said he, "if they try that on, some of us weant be quiet unless they tak' nine or ten inches of the top end of us."
A minister, still living, who was the superintendent of the Circuit a few years since, delights to tell a story which illustrates the slege-hammer kind of speech in which Mr. Grimoldby sometimes indulged. On a certain night the superintendent, in conducting a service at Irby, had asked in his opening prayer, that God would visit every house in the neighbourhood. At the close of the service friend Grimoldby said, "I was pleased wi' that prayer o'yous to-neet. It was kind o'you to ask the Lord to come to see us all. You nivver come to see any on us!" That ex-president of the Conference has had a hundred laughs about it since then.
For many years my old friend led the society class. On reaching his house one day I found him in great concern because the members were not attending the means of grace very well. He set their absence down to preventable causes, and mainly to lukewarmness. "But," he said, "isn't there a passage in the owd Book to this effect: "I would ye were hot or cowd, and because ye are nayther hot nor cowd, I'll be out o'you." A free rendering, but very expressive.
The new hymnal did not receive from him a warm welcome. He objected to the length of some hymns, and lamented the absence of others. He also thought the village pulpits were too much the training-ground for young preachers. One day he expressed his grievance in a lump. "Ony bit of a lad 'll do for Irby. They give out the longest hymns they can find, and some on 'em hev thirteen or fourteen verses in. They never think of us broken-winded owd folks that hev 'em to sing. They read the longest chapter in the Book, and they talk aboot ten minutes, and call that a sarvice." But when my friend presented him with a large-type copy of the hymnal, tears of gratitude streamed down his face, and Mary shared the joy.
On one occasion he and the parish clergyman had a serious difference. Returning home, he said to his wife, "Remember, thou does not let yon man bury me. Thou may put me under that tree I' the garden." To which his wife answered, "I'm sure I shan't. Thou'll be ower near. I've plenty of bother with thou now." She did not live to see him buried, nor did "yon man" inter his remains.
On returning to the Circuit in 1897, I found him still in church work, but becoming weak and infirm in body, and possessed with slender financial resources. Our first interview was characteristic of the man, and had in it a very pathetic touch. We had scarcely exchanged greetings when he said, "You may tak' my name off that class-book." "What have you been doing amiss?" I enquired. "I'm an owd man; I can't work, and I've nowt to give. You hev to pay so much a year for all your members, and I doan't want the Circuit to pay for me when I can't pay," was his rejoinder. "But," said I, "you paid when you could, and we'll see that your class-money is paid somehow, so don't trouble about that matter any more." He was pacified, and remained in fellowship with us to the last; but it was always a great sorrow to him that he could not assist in the material side of church work as had been his wont. What an example to the young people of our time! Many of them spend as much in luxuries as his whole income amounted to in prosperous days, yet unpaid class-money does not break their hearts!
No man enjoyed the services of the sanctuary more than he. He knew the Bible well, and delighted to hear its precious truths expounded and applied. With his gaze steadily fixed on the preacher, his head nodding in assent to the truth proclaimed, and his right hand tapping the pew in front of him, he was one of the most eager and helpful hearers a preacher ever had.
He was poor, but rich; "unknown, yet well-known."; often in sorrow, yet oftener rejoicing. Of such as William Grimoldby spoke the saintly octogenarian, Dr. Maclaren, when he said, many years ago: "There may be no place for us in any record written by man's pen. But what does that matter if our names, dear friends, are written in the Lamb's Book of Life, with this for sole epitaph – 'a disciple'! That simple phrase is the noblest summary of life. A thinker? A hero? A great man? No; 'a disciple.' That says it all."
With all his ruggedness of manner and speech, William Grimoldby was "a disciple," to know whom was no small privilege.
Family and other information
William was born in 1817 at Humberstone, Lincolnshire, to parents John and Jane. William was baptised on 13 July 1817 at Humberstone.
Census returns give the following occupations for William.
1851 agricultural labourer
1861 cottager, 8 acres of land, and agricultural labourer
1871 cottager occupying 11 acres of land
1881 agricultural labourer
1891 cottager
1901 receipt of relief
William married Mary Ann Markham (abt1819-1891) on 24 June 1845 at Swallow, Lincolnshire. Census returns identify four children.
Mary Jane (1846-1924) – married Peter Taylor, an agricultural labourer, in 1871
John (b abt1848) – a domestic coachman (1901)
William (abt1850-1932) – a groom (1901)
George Markham (1855-1943) – a cow keeper (1911)
William died in early 1904 at Laceby, Lincolnshire.
References
Christian Messenger 1907/153
Census Returns and Births, Marriages & Deaths Registers