Rhodes, Maria (nee Shaw) (1835-1906)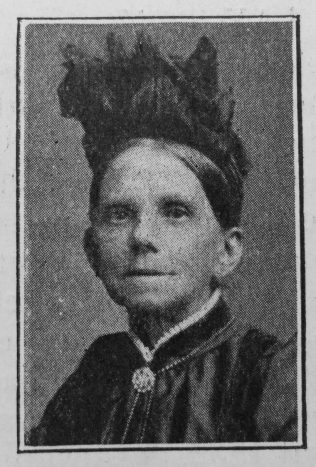 Transcription of Obituary in the Primitive Methodist Magazine by A.J.S.
Maria Rhodes was born at Middlewick, December 27th, 1835. The only education she received was in the Sunday School connected with Jubilee Church. Here she learned to read and write, and such was her natural aptitude and  efficiency that she eventually became mistress of the infant day school.
In 1860 she was married to the late Mr. Thomas Rhodes. It was an ideal union; their devotion to God's House, Sabbath School and Temperance work was beautiful to witness. Only one Sunday in fifty years did Mrs. Rhodes spend away from home, and excepting during seasons of sickness she was never absent from her Sunday morning class for more than half a century. She was most punctual, too, in her attendance. She had a rare sense of duty; and neither distance nor difficulty prevented her in the pursuit of her work. She possessed an original mind with quite a genius for invention; she delighted in preparing pleasant surprises for the church and for those of her home.
As a wife and mother she was frugal, industrious, painstaking, and affectionate. She won her husband to the Temperance cause and he became one of its most earnest exponents and a generous supporter. With prosperity their liberality to God's cause increased, and after the death of her husband Mrs. Rhodes continued to give with open hand.
At the renovation of Jubilee she opened the door and contributed £100, nor was this the last item of like amount given by her. She dearly loved the church and school of her choice, and was very kind also to numbers of the sick, and poor, and aged.
It was pitiable to see the nervous prostration of our sister towards the end, but she had lived Christ, and all was well. She received every care and attention possible, and quietly fell on sleep.
It was a wild, stormy, snowy day when we laid the body of our sister in the Tunstall Cemetery. We look forward to a happy reunion at daybreak when the shadows flee away. An impressive memorial sermon was afterwards preached by Rev. George Jones in the Jubilee Chapel.
Family
Maria was baptised on 20 January 1836 at Middlewich, Cheshire. her parents were Nathan, a boatman, and Mary.
Maria married Thomas Rhodes (1835-1896) on 27 December 1860 at St Thomas, Kidsgrove, Staffordshire. Thomas was an engineer, who later became a coffee house keeper. Census returns identify one child.
William (b1871) – a school teacher
Maria died on 12 January 1906 at Tunstall, Staffordshire.
References
Primitive Methodist Magazine 1907/577
Census Returns and Births, Marriages & Deaths Registers