Millichamp, Edwin (1840-1919)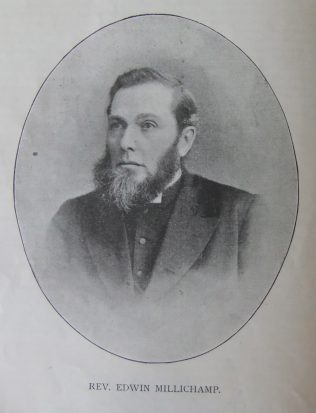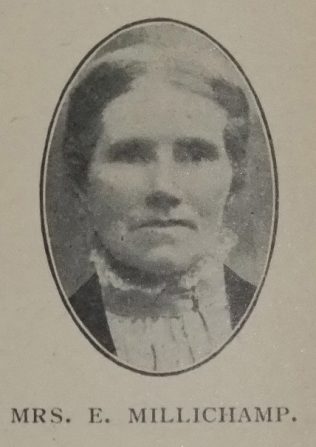 Early years
Edwin was born on 15 March 1840 at Bitterley, Shropshire to parents Edwin and Mary. Edwin senior was a farmer of 90 acres (1851). Edwin was baptised on 16 March 1840 at Bitterley.
Edwin's parents welcomed early preachers of the Connexion into their home. One, Rev John Tharme, died in Edwin senior's arms whilst visiting on 2 June 1844. A room was set up in the farmhouse for worship and a PM society was formed.
Edwin was converted aged 16. In 1859 he was briefly at Darlaston and then a hired local preacher at Kidderminster. The following year, Edwin went to Pontypool to supply for a minister who had resigned.
Ministry
Edwin laboured for 17 years on stations under the care of the General Missionary Committee, covering Scotland, Ireland and Wales.
As a preacher he was plain, practical, and scriptural. He was an ardent believer in the necessity for pastoral visitation; he was a friend and confidant of the people.
Edwin served at District Committee Secretary in Ireland and also for the Home Missions District.
Following superannuation in 1905 Edwin served as supply at Dewsbury and St Albans. He finally retired to Tilehurst near Reading, Berkshire.
Family
Edwin married Dorothy Ann Brown (1846-1924) in 1866 at Swansea. Records identify two children.
Edwin John (1871-1871)
Dorothy (1887-1869) – a schoolteacher (1911); married Albert Edward Sellwood
Edwin died on 10 October 1919 at Reading, Berkshire.
Circuits
1861 Chippenham
1863 Radstock
1865 Swansea
1867 St Ives
1869 Newport
1871 Bromyard
1872 Pembroke Dock
1875 Richmond
1876 Belfast
1877 Trenant
1880 Tunbridge Wells
1883 Colnbrook
1886 Croydon
1889 Bradfield
1892 Reading
1893 High Wycombe
1896 Winchester
1899 Witney
1901 Silchester
1903 Bradfield
1905 Dewsbury (S)
References
Primitive Methodist Magazine 1895/403; 1915/518; 1920/583; 1925/363 (Dorothy)
PM Minutes 1920/260
W Leary , Directory of Primitive Methodist Ministers and their Circuits , 1990
Census Returns and Births, Marriages & Deaths Registers