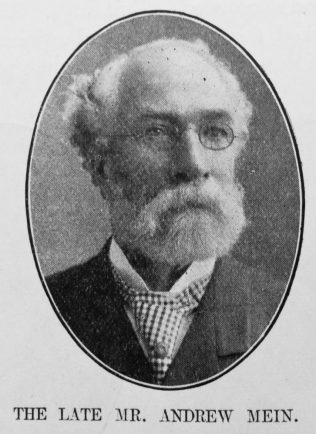 Transcription of Obituary in the Primitive Methodist Magazine by William Younger
Mr. A. Mein was born on August 13th, 1831, and died on June 8th, 1905. His parents were Presbyterian, belonging originally to the Borders in the vicinity of Berwick, and eventually removing to Cowpen Quay, near Blyth, where Andrew was born. The son received a true religious education, which produced permanent results in a nature singularly rich in religious instinct. He joined our Church at Dudley when thirty-three years of age. Largely owing to his efforts a chapel was erected in the village.
In a few years after living at Shankhouse and Hollowell, he removed to Backworth, where he spent three and a half years. At this place his family were converted.
In 1872 he removed to Shildon. Here he threw himself into religious work, and did great good in the Sunday School, and as a class leader. Ultimately he settled in Bishop Auckland, and became Superintendent of the Tenters Street Sunday School. Then he removed to Witton-le-Wear, where the illness took place which resulted in his death. He was circuit steward of the Bishop Auckland circuit for seven years, and for some time was treasurer of the District Orphanage Fund.
He possessed some very remarkable features of character. He was intensely religious. Religion to him consisted not simply in fellowship with God sustained by prayer; he had also a very clear sense of the principles which should be manifest in a religious man. This intelligent apprehension of religion was the outcome of a devout, prolonged and intense study of the word of God.
What keen insight he possessed into the ethical applications of Scripture! It follows naturally that his conscience was an enlightened one. He sought to discover the relation of Bible teaching to his own experience. While a terror to the evil doer, this element of consulting his conscience in all he did made him the friend of good and brave men. He was honourable to a degree, and would scorn to do a mean thing. This made him a Christian gentleman, with all the refinement characteristic of a noble mind and spiritual outlook. Yet he was perfectly natural, thus was approachable. Surely this love of living a simple human life is the essence of goodness. He was also very emotional. This sprang from the wealth of his sympathies. Nothing moved him so much as the record of noble deeds manifest in obscure men and women. Yet he was intensely practical, being possessed of the business instinct to his finger tips.
He loved his Church, and spent his best years and strength for her prosperity. He had the rare quality, that while he enjoyed in material prosperity the fruits of a busy life, he would put himself "out of the way" to make the poor of the Church feel at home with him. He had known the lot of the toiler, and was never afraid to tell the story of his early struggles. Then his love of his church took a very practical turn. He was an exceedingly generous man. To the erection of the new churches at Witton-le-Wear and Bishop Auckland he gave hundreds of pounds.
His mental detachment and generosity made him a good master. In any difficulty with his employees he always preferred to meet them face to face. He prayed regularly for them in the mine, and especially for their safety. If he had any critical dif?culty with them he got on to his knees and asked God about it. He loved them.
He was a hard worker. When he became interested in the improvement of his mind, he worked at a tremendous rate, and he possessed a constitution capable almost of any strain. The result was that he passed through every grade in the mining profession, and a shrewd judge has said that if he had had an efficient education in his youth, he would have made a great mining engineer. His mental gifts were manifest in his great executive skill, in his power to see the probabilities and possibilities of a situation.
He was also a born conversationalist. He could read poetry as well as any man I have heard, except the great masters. When at hydros in his invalid days he was always the central figure in discussion. He compelled attention when you saw him.
His home was his castle. He loved his children, and one of his joys was to know that they were using their gifts for noble ends. We all rejoice that his son, Mr. H.J. Mein, is rapidly becoming in?uential in public life and Free Church life in the County of Durham.
His physical sufferings in his later years often made him long for death. Yet he never murmured, He believed that God's ways were best. His pain was made more acute because of his loneliness. The loss of his wife made the years lonely. How much she was to him could be seen in his inability to speak of her sometimes, and the dropping of the eyes and playing with fingers indicated a sacred inner world of memory and hope. He has gone. Many who loved him will miss him, including Mr. J.J. Spoor, his co-steward, with whom he spent many happy years.
Some of us will never forget him. He was so kind, so good, so much a man. He has entered into eternal life.
A service was held in the Central Church, Bishop Auckland. The Revs. T. Allison Brown, W.D. Cox, and W. Gelley took part, the writer giving an address.
Family
Andrew was born to parents Andrew, a mason, and Mary.
Census returns identify the following occupations for Andrew.
1851 coal miner
1861 coal miner
1871 overman in mine
1881 colliery manager
1891 colliery owner & farmer
1901 colliery owner
Andrew married Ann Brown (1830-1897) in late 1853 in the Tynemouth Registration District, Northumberland. Census returns identify six children.
Henry Johnson (abt 1855-1920) – a colliery manager
James (abt1857-1925) – a colliery manager
Ann Brown (1860-1939) – married James Jameson, a farmer, in 1884
Elizabeth Fenwick (abt1862-1941) – married William Watson Rutherford, a railway engine driver, in 1902; married Christopher W Boddy in 1927
Andrew (1864-1917) – a colliery sales agent (1911)
William Hartford (1867-1946) – a colliery cashier (1911); a company director (1941)
References
Primitive Methodist Magazine 1906/574
Census Returns and Births, Marriages & Deaths Registers