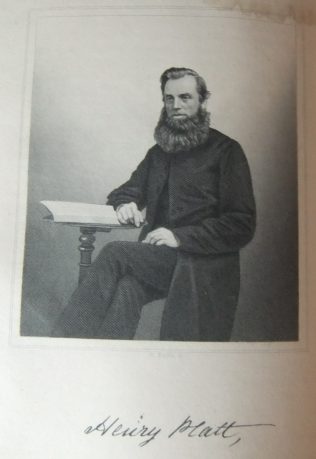 Henry was born on 23 April 1825 at Scotter, Lincolnshire to parents George and Jane. He was baptised on 25 April 1825 at Scotter.  His parents were Primitive Methodists.
Henry was converted at the age of 18 at a revival meeting in Scotter. He soon became a local preacher.
Ministry
Henry was President of the District Meeting on 5 occasions. He served 5 years as Secretary of the District Committee, 11 years as Secretary of the Buildings Committee and 11 years as Secretary of the Ministerial Association.
His obituary records that he was on of the best managers of men. His great power of self-control, his keen wit, his gentle sallies, and good humour, helped him to calm many a storm and bring to an end many a dispute. He could 'pour oil over troubled waters', and could see more quickly than most a way out of apparent difficulties.
Henry took a keen and intelligent interest in the temperance question, and it was often a source of pleasure to his brethren to hear him on this subject.
Family
Henry married Martha Gantlett (1822-1892) in 1851. Census records identify four children.
Frederick Barker (1857-1931) – manager of a carpet manufacturer in 1901
George Roger (1859-1931) – a grocer
Cecilia Jane (b1864) – married Samuel George Foster, a coal merchant
William Henry (1867-1948) – a watchmaker
Henry died on 22 August 1883 at Fisherton Anger, Wiltshire.
Circuits
1846 Brinkworth
1847 Worcester
1848 Hawksbury Upton
1849 Macclesfield
1850 Newbury
1851 Marlborough
1853 Cranborne
1855 Leamington
1857 Oxford
1861 Banbury
1864 Wallingford
1866 Aylesbury
1869 Leamington
1870 Brinkworth
1875 Sturminster
1878 Salisbury
1883 Salisbury (S)
References
Primitive Methodist Magazine 1874 (Portrait); 1884/49
PM Minutes 1884/11
W Leary, Directory of Primitive Methodist Ministers and their Circuits , 1990
Census Returns and Births, Marriages & Deaths Registers