Pickett, James (1853-1918)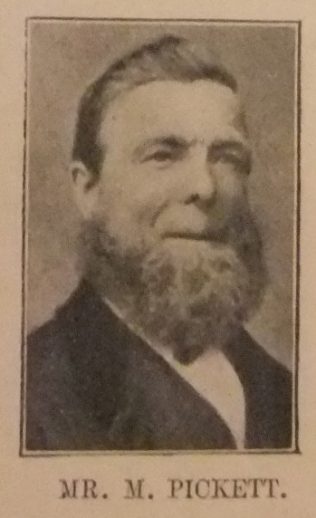 Early years
James was born in 1853 at Berwick Bassett, Wiltshire to parents Moses and Sarah. Moses worked as an agricultural labourer carter (1851), a labourer at a brewery (1861) and later as a grocer's porter (1871). Brothers Frederick and Henry John also became PM Ministers.
The 1871 census shows James working as a grocer's porter.
Ministry
James was Secretary of the General Missionary Committee from 1903. He provided five years of able administration, which, with powerful platform advocacy, did so much to lift the office out of the confusion into which the sudden death of two predecessors had plunged it. During his period in that office, James, in company with Alderman Linfield, made a visit to the West Africa Missions.
James was President of Conference in 1908.
His obituary records that as a circuit minister, James gave himself to the many details of circuit administration, being careful, courageous, courteous, winning men to his way not by arbitrary methods but by reason of his sound judgement and his 'sweet reasonableness.'
Literature
James authored the following.
The Modern Missionary Crisis, 1913 (Hartley Lecture)
Family
James married Louisa Spackman (1857-1903) in early 1881 at Cricklade, Wiltshire. Census returns identify six children.
Herbert James (1882-1955) – a ship owner's clerk (1911)
Elsie Kate (1883-1951) – married Walter Smith, a wholesale grocer (1911)
Henry Frank (1885-1964) – an ironmonger's assistant (1911)
Lilian Edith (b1887) – a post office clerk (1911); married Reginald Cawthorne, a PM minister, in 1915
Mabel Louisa (1888-1974) – married Thomas W.F. Dalton
Hilda Mary (1895-1981) – married Henry Charles Larby
James died on 22 August 1918 at Hull, Yorkshire.
Circuits
1877 Cirencester
1878 Southwark
1879 Surrey Chapel
1881 London IV
1882 Forest Hill
1885 Leicester III
1890 Leicester II
1897 Hull II
1902 Nottingham IV
1903 Secretary of GMC
1908 Harringay
1913 Chesterfield
1916 Hull III
References
Primitive Methodist Magazine 1909/1; 1911/274; 1912/674; 1913/693;
PM Minutes 1919/283
H B Kendall, Origin and History of the PM Church, vol 2, p373
B A Barber, A Methodist Pageant, 1932, p246
W Leary , Directory of Primitive Methodist Ministers and their Circuits , 1990
Census Returns and Births, Marriages & Deaths Registers