Clark, Charles Edward (1868-1946)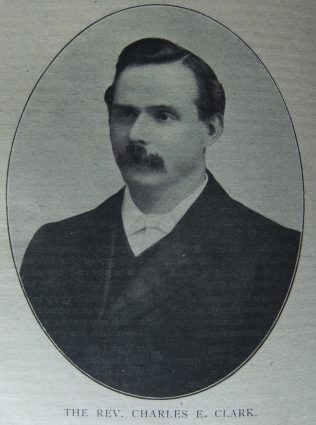 Early years
Charles was born on 18 June 1868 at Owston Ferry, Lincolnshire to parents Thomas and Mary Hannah. Thomas was a boot and shoe maker.
Charles was converted early in life. He was convicted of sin in church and gave himself to the Lord by his bedside before retiring the same night. It was not long then before he made an effort to confess his Lord in the ordinary class meeting, which was conducted by his uncle.
Taking the place of his cousin on the Mission Band, his speaking ability was recognised, and the following quarter he was authorised to accompany his brother-in-law as a preacher 'on note'. After being on full plan for about a year, Charles was recommended for ministry. Before entering college, Charles spent a year at Brinkworth as assistant to Rev D Harding.
Ministry
After superannuation, Charles settled in St Neots. He continued to preach the Gospel, to the day of his death. Charles was in great demand as a preacher and speaker, but perhaps would be best remembered for his visiting and his quiet, faithful friendliness.
Several months before his death, Charles moved to Ashby, nr Scunthorpe, where he attended the Kendall Memorial Methodist Church. He passed away peacefully without any warning at his home, an hour or so after conducting morning worship in the local church.
Family
Charles married Harriet Eliza Stammers (1867-1940) in the summer of 1896 at Southwark, London.
Charles married Mabel Gant in the summer of 1945 at Scunthorpe, Lincolnshire.
Charles died on 28 April 1946 at Scunthorpe, Lincolnshire.
Circuits
Hartley
1892 Walworth
1893 Redhill
1895 Monmouth
1896 Liskeard
1897 Maldon
1902 High Wycombe
1904 Brandon
1908 Midsomer Norton
1912 Ilkeston
1915 Berkhampstead
1919 Weobly
1923 Hadnall
1925 Saffron Walden
1929 St Neots
1932 Scunthorpe (S)
References
Primitive Methodist Magazine 1921/560
Methodist Minutes 1946/144
W Leary, Directory of Primitive Methodist Ministers and their Circuits, 1990
Census Returns and Births, Marriages & Deaths Registers