Crewdson, Richard (1856-1931)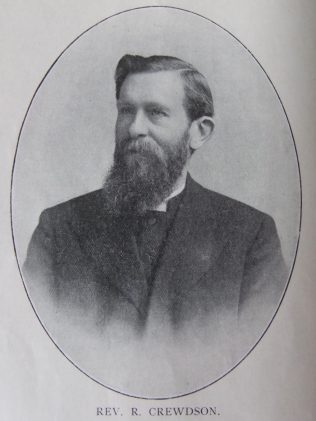 Early years
Richard was born on 10 December 1856 at Bardsea, nr Ulverston, Lancashire, to parents Fernando and Jane. Fernando was a cordwainer.
From the age of six, Richard was brought up in Barrow in Furness. He was converted at the age of nine in the Forshaw Street Chapel. He became a Sunday School teacher and at the age of fifteen he was put on the plan.
Ministry
Richard's obituary records that his evangelic passion was like a holy flame. He was associated with the development of the Holiness Movement in the 1890's in the Hull District.
Richard's health gave way at Southport and he had a superannuate. In 1917 he was well enough to take up the work again and went to Glascote (Tamworth) for three years. After retiring, Richard first lived in Stockport and then Manchester and then in early 1931 to Thornton, nr Blackpool before moving to live with his daughter back in Stockport.
Richard used to tell with great satisfaction that he felt that he had played a vital part in forwarding the Union of the Methodist Churches. His brother, a Wesleyan Minister, desired to attend the Conference at Liverpool, in 1928, and vote in the Pastoral Session for Union. In order to enable him to do so, Richard took his appointment on the Wesleyan Plan, and the vote was duly recorded. When the vote was counted it was exactly the seventy five percent needed for approval, neither one more nor one less!
Family
Richard married Jane Hawley (1862-1925) on 13 July 1882 in Chelmorton Chapel, Derbyshire. Census returns identify one child.
Nellie Oldfield (b1883) – married Moses Rook, a retail chemist
Richard died on 3 November 1931 at Stockport, Cheshire.
Circuits
Sunderland
1878 Manchester II
1880 Newton & Hyde
1882 Leigh
1887 Leek
1892 Stockport I
1895 Buxton
1898 Hull II
1901 Scarborough I
1904 Maryport
1908 Stockport I
1913 Southport
1916 Maryport (S)
1918 Glascote (Ac)
1920 Stockport (S)
References
Primitive Methodist Magazine 1914/170; 1926/517 (wife)
PM Minutes 1932/304
W Leary, Directory of Primitive Methodist Ministers and their Circuits, 1990
Census Returns and Births, Marriages & Deaths Registers