Chubb, William (1808-1874)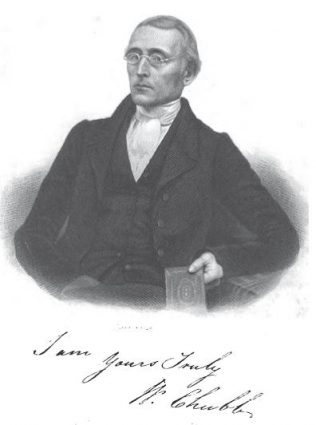 Copy provided by Steven Carter
William was born on 10 April 1808 at Derrill, Pyworthy, Devon, to parents William Chubb and Elizabeth Colmer.
Ministry
William attended a Primitive Methodist camp meeting in 1829, which led to his conversion. He soon engaged in two years of local ministry before becoming a travelling preacher. His obituary records that William laboured with zeal, general acceptance and success at his stations. Sadly his health failed in 1866 and he had to apply for superannuation.
Family
William married Martha Griffiths (1809-1877) on10 July 1838 at Dilwyn, Herefordshire. Martha was a class leader and local preacher. Records identify five children.
Elizabeth Ann (1839-1924) – married Thomas Meredith, a PM minister, in 1863
Martha Maria (1840-1897) – married Alfred Hockey, a baker.
Mary Jane (1844-1923) – married John Andrews, a farmer
William Griffiths (1845-1930) – a draper; local preacher
Samuel Richard (b1849) – known to have been a local preacher.
William died on 19 January 1874 at Ludlow, Shropshire.
Circuits
1832 Birmingham
1833 Kidderminster
1834 Cwm
1837 Ramsor
1838 Dudley
1839 Congleton
1841 Bishops Castle
1844 Oswestry
1846 Coventry
1847 Wrockwardinewood
1848 Halifax
1851 Leeds
1852 Barnsley
1853 Easingwold
1854 Dawley
1856 Leintwardine
1859 Leominster and Weobly
1860 Market Drayton
1862 Church Stretton
1865 Shrewsbury
1866 Shrewsbury (S)
1867 Ludlow
References
Primitive Methodist Magazine 1855/641 (portrait); 1875/111; 1878/375 (wife)
PM Minutes 1874/7
W Leary, Directory of Primitive Methodist Ministers and their Circuits , 1990
Census Returns and Births, Marriages & Deaths Registers