Cuthbert, Martin (1847-1922)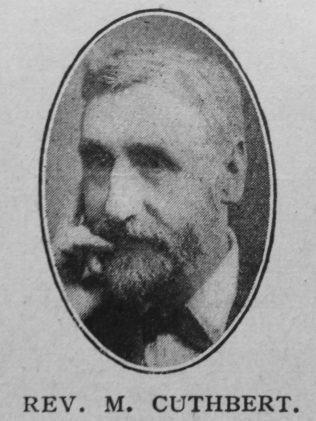 Transcription of obituary published in the Primitive Methodist Magazine by J.G. Bowran
In my earliest days I was familiar with the name of the Rev. Martin Cuthbert. He began and served the whole of his probation in my native circuit. When I was just a child I used to hear his name repeatedly in the home of my parents, and it was always spoken with reverence and affection. In the days of my youth I met and heard him, and during my ministry we have been friends. 
He was a true son of Durham, being born at Coxhoe on May 4th, 1847. He was one of many who, through the grace of our Lord, owed everything to Primitive Methodism. His life began when he was converted and all the good things followed when he began to preach. He was a student of the "old institute," as the first college in Sunderland is still kindly called. 
If ever a man was happy as a Circuit minister surely it was he. I do not believe that he could conceive of a higher calling or a nobler sphere. Certainly he had no other ambition. To serve the Lord in Primitive Methodism, to preach the everlasting gospel on Sundays and week-days in colliery places and in rural villages, to move about in the homes of the people, welcomed by all, trusted by parents and admired by the young, to pray for the success of the churches and to answer his prayers by steady and faithful toil—that was the ideal of my friend. For forty-two years he did that, year in and year out, never wearying, never turning aside. 
The work of a Primitive Methodist circuit minister grew on him as the years went by. It filled his life; it satisfied his soul. All his circuits were in the three Northern Districts: Gateshead, Brough, Blaydon, Middleton-in-Teesdale, Hexham, Crook, Durham, Ashington, Staithes, and a second term at Middleton-in-Teesdale. It will be seen that he stayed well in his circuits. Even in the days when changes were frequent he was urged to remain.
Martin Cuthbert was a distinct personality. There was a ruggedness and independence in his thought and speech which made him distinctive in every sphere.
Russell Lowell sings :—
"And I honour the man who is willing-to sink
Half his present repute for the freedom to think;
And, when he has thought, be his cause strong or weak,
Will risk t'other half for the freedom to speak."
The poet would have honoured Martin Cuthbert as all who knew him did. He was absolutely free from all jealousy. What Louis Stevenson said of James Walter Ferrier was true of Martin Cuthbert. "He believed in himself profoundly but he never disbelieved in others. To the roughest Highland student he always had his fine, kind, open dignity of manner and a good word behind his back." Martin Cuthbert, as all who knew him in his circuits would testify, was incapable of meanness. There was nothing shifty about him. His eye looked "right on." He neither swerved to the left nor the right.
His first wife, Miss Lister of Coxhoe, bore him two sons and two daughters. His. elder son is an accomplished and highly esteemed minister in our Church. The Rev. N.M. Cuthbert is the Superintendent of the York I. Station. The younger son, William Alfred Cuthbert, is a trader in Iquique, Chile, South America. He has been resident there for fourteen years. He is married to an Italian lady and has two children. The elder daughter, Annie, was a schoolmistress, and is now married to Mr. Peter Davy, a wool merchant, of Bradford. Esther, the younger daughter, lives with Mr. and Mrs. Davy. 
Mr. Cuthbert's second wife was Miss A. Dixon. She died in 1914. This bereavement came just when Mr. Cuthbert had superannuated and settled in York. Afterwards he removed to Skipton. He himself passed to the life above on July 20th, 1922, and was interred at Skipton on July 24th. I have before me a letter from his elder son in which he speaks of the affectionate relationship which always existed between his father and his children. Their lives are rich indeed in his memory, and our Northern churches are not likely to forget all the good and faithful service he rendered, and above all the fine Christian example he set.
Family
Martin was born on 4 May 1847 at Coxhoe, Co. Durham, to parents Martin, a coal miner, and Rachel. He was baptised on 13 May 1847. His brother, William, was also a PM minister
Before entering the ministry, Martin was a coal miner (1871).
He married Esther Lister (1845-1891) in the summer of 1876 at Coxhoe, Co. Durham. Census returns identify four children.
Nicholas Martin (1877-1952) – a PM minister
Rachel Annie (1878-1957) – an assistant schoolmistress (1901); married Peter Davy in 1922
Esther (1880-1962)
William Alfred (b1882) – a merchant in Chile
He married Alice Ann Dixon (1861-1914) in late 1892 in the Weardale Registration District, Co. Durham.
Martin died on 20 July 1922 at Skipton, Yorkshire.
Circuits
1872 Gateshead
1875 Lowick
1876 Brough
1877 Wigton
1879 Hetton
1880 Newcastle II
1881 Middleton in Teesdale
1886 Hexham
1890 Crook
1894 Durham
1899 Ashington
1903 Loftus
1908 Middleton in Teesdale
1914 York (Sup)
References
Primitive Methodist Magazine 1923/360
PM Minutes 1923/258
W Leary, Directory of Primitive Methodist Ministers and their Circuits, 1990
Census Returns and Births, Marriages & Deaths Registers