Powell, Maggie (1888-1912)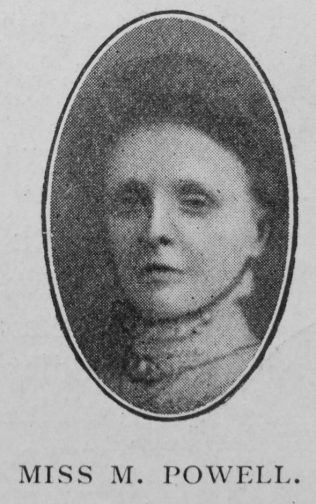 Transcription of obituary published in the Primitive Methodist Magazine by T. Bullock
Maggie Powell, of Platt Bridge, Leigh Circuit, passed away suddenly and tragically on June 4th, the arms of destiny arresting her in the path of duty. She was tripping light-heartedly to the daily round of the Lancashire pit-brow girl when the wagons on the colliery lines, which were thought to be stationary, bounded upon her as she was crossing, laid her prostrate upon the track, and the wheels of the trucks quickly caught and crushed her indescribably. 
The light of twenty-four summers had shone upon her, and the steady glow of God's refining fire had been in her heart since girlhood; she had ripened in the sunlight of the Spirit. She was a leader in the Christian endeavour, teacher of a class of young ladies, and exercised a remarkably potent influence not only in the  Church, but even on the most reckless evil bravado. Her leadership was charged with quenchless hope and deathless faith.
In the agitation of a few months ago respecting mining restrictions, when it was proposed to prohibit girl labour at the pit-head, she told a crowded audience how she laboured by the side of the girl on the week-day whom she taught in holy things on the Sabbath, and her speech created a profound impression in favour of the expulsion of the forbidding clause. She had thought of a movement for the pit-brow girls which would be both educative and inspirational, but alas! she was called across the bar. The story of the consequent revival has already been told. The whole neighbourhood was subdued. Her class has fully surrendered for service. In the home there is a terrible sense of vacancy, but the sorrow is not bereft of faith and vision.
Family
Maggie was born in 1888 at Pemberton, Lancashire, to parents Henry Powell, a colliery surface foreman (1911), and Alice Ashurst.
Census returns identify the following occupations for Maggie.
1911 colliery coal screener
Maggie died on 4 June 1912 at Platt Bridge, Lancashire.
References
Primitive Methodist Magazine 1912/917
Census Returns and Births, Marriages & Deaths Registers