Chubb, Joseph (1837-1926)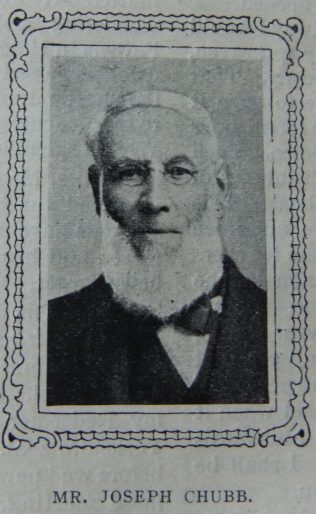 Transcription of 'Sketch' in the Christian Messenger
MR.JOSEPH CHUBB, of Street, in the Glastonbury Circuit, is very reticent concerning anything good of himself, yet no man is more worthy. To us as a people his worth is invaluable. He might be termed one of the founders of Primitive Methodism, for our cause in street, which is by far the strongest in the Circuit, was established by Mr. Chubb in co-operation with Rev. W. Cooper. The writer has heard of Mr. Chubb and the Rev. W. Cooper going forth to stand by the Market Cross and sing hymns and call sinners to repentance, long before we had any place of worship at Street. In 1872, Mr. Chubb took up his residence at Street, during which year the chapel was built. From then till now Mr. Chubb has filled the years with holy toil – toil which is yielding a good and bounteous harvest.
Mr. Chubb has filled with great credit the positions of local preacher, Class leader, chapel trustee, chapel treasurer, Sunday school teacher and superintendent. He has been honoured by the Circuit on several occasions as its representative to District meetings. In 1882, Mr. Chubb figured most prominently in a remarkable revival.
During the past forty-five years he has been a local preacher on this Circuit; this is the first quarter in which he seeks rest, and to our brother this is a most painful necessity. His forethought, judgement and wide experience are of great value to the Circuit, and his service in a Sunday evening prayer meeting cannot be measured. Our friend has come though many labours, much sorrow and joy to an eventide of golden glory and we pray that the Peace of God which passeth all understanding may ever be his.
H. PRESTON
Family and other information
Joseph was baptised on 23 June 1837 at Beaminster, Dorset. His parents were Henry and Ann. Henry worked the land.
Joseph spent his working life as a shoemaker.
Joseph married Mary Browning (1837-1904) in late 1854 in the Wells Registration District, Somerset. Census returns identify ten children.
Elizabeth (1855-1873)
John Henry (1861-1939) – a shoemaker
Mary Ann (1863-1874)
Alfred (1865-1899) – a bootmaker
Frank (1871-1944) – a shoemaker; emigrated to USA; became a clergyman
Henry (1874-1890)
William (1876-1958) – a boot and shoe turner (1901)
Joseph Jethro (abt1878-1950) – a baker and confectioner
Edith Jane (1879-1960) – married Stanley Bacon, a boot and shoe pattern cutter, in 1900; emigrated to USA in 1906
Walter Ernest (abt1882-1945) – a shoe clicker
Joseph married Ann Treloggen (1865-1915) in late 1904 in the Axbridge Registration District, Somerset.
Joseph died on 7 August 1926 at Ashcot, Bridgewater, Somerset.
References
Christian Messenger 1910/253
Census Returns and Births, Marriages & Deaths Registers