Cooper, Eliza Margaret (nee Craine) (1851-1907)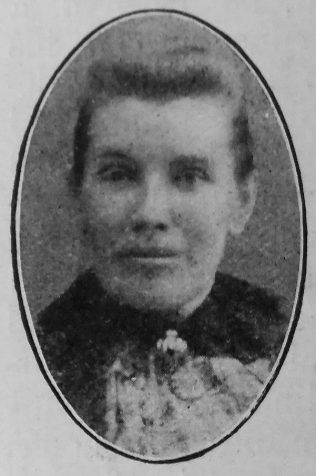 Transcription of obituary published in the Primitive Methodist Magazine
Eliza Margaret, the beloved wife of the Rev. James Cooper, was born in Glenaulden, Ramsay, Isle of Man, December 25th, 1852. In girlhood she became a member of the Wesleyan Church and a useful Sunday School worker. In July, 1882, she was married to the Rev. J. Cooper, and her rare gifts now found a wider sphere of Christian service. Until smitten down by disease she laboured with her might to spread the Redeemer's Kingdom, and was "an ideal minister's wife."
Mrs. Cooper was a person of strong character, fine judgment, business tact, and a good platform speaker. For a number of years she was an acceptable local preacher, but her true sphere of service was among the young people, and visiting the suffering and needy. For twenty-five years she shared the joys and sorrows, the successes and difficulties of a minister's lot. She was a model mother, possessing all the necessary qualities for this high position—being affectionate, wise, sunny; careful, but not mean; and deeply religious.
Home was her sanctum, the realm in which she was the central orb; aiming to keep it bright and attractive for family and friends. From their earliest years her daughter and two sons were trained to love the Saviour, and early in life they became members of our church. They, with the tenderest affection, call their mother "Blessed."
Mrs. Cooper presented the Saviour with her best enthusiasm, kindness being a leading trait in her beautiful character. Hundreds of friends have enjoyed her bright smile and hospitality, and in scores of homes where there has been death, poverty, and broken-heartedness, she has been an Angel of Mercy, feeding the hungry, clothing the naked, ministering to the sick, and visiting the prisons. Some time ago, in company with her husband, she visited a young man in his cell in Cambridge Castle. Mrs. Cooper, like her husband, was passionately fond of young people, and has had the joy of leading numbers to Christ's feet, in the church and in the home.
She was a successful Temperance worker, and had held the position of President in the British Women's Temperance Association. She has been, too, for many years a successful Sunday School teacher, and again and again had the joy of leading all her class to the Saviour.
Numerous letters of sympathy from all parts of the country and abroad were received. One correspondent says, "She lived to bless and comfort others;" another, "She was a tower of strength; " a third, "One of God's good women ;" a fourth, "A good and holy person;" and another truly says, "Many will miss her companionship." The doctors and nurses in Guy's Hospital testified that Mrs. Cooper was a very holy woman."
It was early in November, 1906, that she was seized with inflammation, and while in a weakly condition other complications followed. Two physicians besides the local doctor attended her. Under the advice of Dr. French, she was removed to Guy's Hospital to undergo a second operation, but it was unsuccessful, and while asleep, she peacefully entered the heavenly mansions. Through her long illness and much suffering her experience was, "I have peace, perfect peace!" Shortly before the end came, she said to her husband, "Through death's chilly waves I'll be with thee." "I am trusting Thee, Lord Jesus." "Glory, glory, glory, praise the Lord, Jesus is coming!" She saw the heavenly shore, and a group of dear departed ones waiting to greet her, and on recognising her daughter Florrie, exclaimed, "There is dear Florrie, O how beautiful she is!"
On July 25th, a memorial service was conducted by the Rev. J. Learmonth, of Lavender Hill. "The memory of the just is blessed."
Family
Eliza was born on 25 December 1851 at Ramsey, Isle of Man, to parents John Craine and Isabella Anderson. She was baptised on the following day at Lezayre, isle of Man.
Eliza married James Cooper (1853-1938) in July 1882 at Lezayre, Isle of Man. Census returns identify three children.
Gertrude Isabel (1883-1961) – a house-keeper (1911); married Arthur S Waylen in late 1915
James Clarence (b1886) – a schoolmaster (1938)
Claude Anderson (1891-1953) – a clerk (1911)
Eliza died in June 1907 at London. She was buried on 8 June 1907 at New Ham, London.
References
Primitive Methodist Magazine 1908/570
Census Returns and Births, Marriages & Deaths Registers