Hobson, Frederick (1875-1946)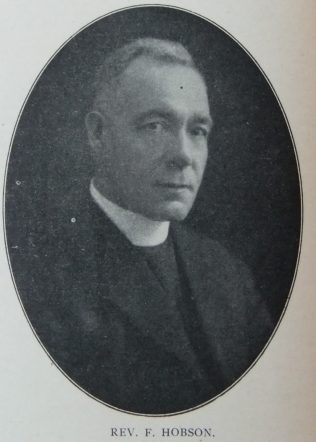 Early years
Frederick was born on 21 March 1875 at Darlington, Co Durham, to parents Frederick and Eleanor. Frederick, senior, was a cartman for the corporation (1881).
Frederick's boyhood and youth were associated with the Greenbank Church, Darlington. He began to preach under the ministry of Rev Andrew Latimer.
As a youth, Frederick was apprenticed to a blacksmith. Before entering Hartley College in 1898, Frederick spent a year as lay agent in Newcastle-upon-Tyne under the superintendence of Arthur T Guttery.
Ministry
Frederick served as District Committee Secretary and Missionary Secretary in the Bradford and Halifax District, each for a term of five years.
Frederick was Secretary of Conference at Southport in 1928. He also served as Treasurer of the Itinerant Ministers' Friendly Society.
His obituary records that he was a good, kind, soul, who found his highest joy, not in attaining anything for himself, but in serving without stint in the Church he so much loved. He was a student but never a book-worm, nor did he spend time in his study that could be better spent in the common tasks that came his way day by day. Frederick was also a lover of poetry.
Family
Frederick married Florence Sophia Carden (1878-1919) in the summer of 1904 at Scarborough, Yorkshire. Florence was the daughter of Rev Henry Carden. Census returns identify two children.
Henry Carden (1906-1968) – a wool sorter (1946)
Dorothy Fredrica (b1910)
Frederick married Florence May Cooper in the spring of 1933 at Wakefield, Yorkshire.
Frederick died on 23 June 1946 at Darlington, Co. Durham.
Circuits
Hartley
1900 Sunderland IV
1905 Crook
1907 S Shields
1913 Bradford V
1924 Halifax II
1934 Bradford Gt Horton
1940 Darlington (S)
References
Primitive Methodist Magazine 1929/64
Methodist Minutes 1946/147
W Leary, Directory of Primitive Methodist Ministers and their Circuits, 1990
Census Returns and Births, Marriages & Deaths Registers