Holland, William (1840-1927)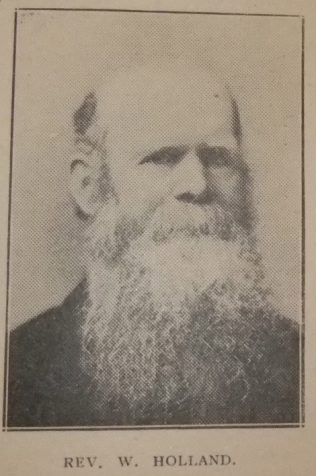 Early years
William was born on 11 December 1840 at Lineal, Shropshire to parents Joseph and Anne. Joseph worked the land.
William was converted at the age of seventeen. A few months later his name appeared on the plan.
On removing to Liverpool, he served the third circuit as a class-leader and choirmaster as well as local preacher.
Ministry
William was one of the first six missionaries to Africa. He went out to the West African field on a total of four occasions. On the second occasion at St Isabel, William had difficulties with the Spanish Governor who issued a writ banishing him from the island with 48 hours notice. On return to England, William was able to see the Foreign Secretary. Prompt communications with the Government in Madrid, resulted in the way being cleared for William to return.
William has served on probationers and Candidates Examining Committees and as a District Building Committee Secretary.
His obituary records that as a preacher he was evangelical in doctrine and evangelistic in method.
Family
William married Mary Knight Bloxcidge Walker (1852-1932) in 1973. Census returns identify of five children.
Florence Bloxcidge (1876-1965) – a drapers cashier (1901); married Sherriff Pennington, a builder
William Wishart (1886-1970) – a postal clerk (1911)
Mary Winifred (1892-1979) – married Samuel Tinney
Arthur Bond (1895-1968) – a clerk
William died on 20 October 1927 at Merthyr Tydfil, Glamorganshire
Circuits
1867 Hertford
1868 Hastings
1869 Tamworth
1872 St Isabel
1874 London
1875 GMC Agent
1876 Portsmouth
1877 St Isabel
1879 Watford
1880 St Isabel
1881 Watford
1884 St Albans
1885 Tranent
1889 N Sunderland
1891 St Isabel
1892 San Carlos bay
1893 Belfast I
1897 Chichester
1900 Teignmouth
1903 Falmouth
1905 Aberdare
1908 Blaenavon
1910 Port Talbot
1911 Aberavon
1912 Watford (S)
References
Primitive Methodist Magazine 1904/255; 1928/285
PM Minutes 1928/260
H B Kendall, Origin and History of the PM Church, vol 2, p491
W Leary , Directory of Primitive Methodist Ministers and their Circuits , 1990
Census Returns and Births, Marriages & Deaths Registers