Hunt, Thomas Hankey (1842-1921)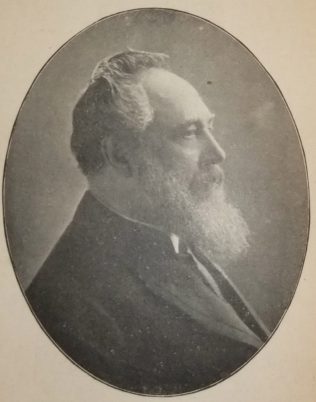 Early years
Thomas was born in 1842 at Hatton, Cheshire to parents William and Hannah. William was a tailor and PM local preacher. Thomas also worked as a tailor before entering the ministry.
Thomas was converted aged 15 and almost immediately his name appeared on the circuit plan. As the 'boy preacher', he became very popular in his own and neighbouring circuits. He was recommended for the ministry two years later, but did not actually enter the ministry until he was 19 under the influence of William Antliff.
Ministry
In his early ministerial days, his obituary records that Thomas had a powerful presence and was very effective in camp meetings. He was a born raconteur and had a great fund of humour.
Thomas was a regular attender at Conference, frequently as a delegate. He was Secretary of Conference in 1892. Thomas was President of Conference in 1903. He attended the Methodist Ecumenical Conference in America in 1891.
Thomas was editor of Primitive Methodist World for 25 years and the Connexional Almanac. He also edited a preacher's pocket book. He was one of the first to secure a report of the proceedings of Conference in the leading daily papers of London and the provinces.
Thomas was instrumental in Temperance Reform and in Sunday School work. Whilst General Sunday School Secretary, he originated the triennial Sunday School Conference and did much to improve the administration of the annual scripture examinations.
Thomas was Evangelistic Secretary for the Centenary celebration in 1907.
Literature
Thomas wrote the following.
Warnings to watchmen on the walls of Zion , 1882
Martin Luther: his life and work: a study for Protestants , 1885
The Primitive Methodist teacher's pocket book , 1886
The Christian citizen and temperance reform , 1906
Sunday School reform: a problem for the times , 1907
The Primitive Methodist Diary , 1915
The liquor problem and how to solve it
John Wesley: His life and Work
Family
Thomas married Elizabeth Antliff (b1842) in the summer of 1866 at London. Elizabeth was the daughter of William Antliff. Census returns identify four of their five children.
William Antliff (b1867)
Tom Harold (1869-1918) – a general medical practitioner
Gertrude (1872-1938) – married John James Noble, a journalist
Arthur Douglas (abt1881-1953) – a doctor
Thomas died on 1 April 1921 at Southport, Lancashire.
Circuits
1862 Oldham I
1864 Birkenhead
1865 Liverpool III
1866 Bacup
1868 Northwich
1871 Manchester II
1876 Oldham I
1879 Douglas
1881 Haslingden
1883 Leeds III
1886 Darwen
1890 Manchester VI
1892 Gen S S Sec
1897 Halifax II
1900 Bootle
1905 Bolton I
1909 Runcorn
1912 Southport (S)
References
Primitive Methodist Magazine 1896/723; 1921/849; 1924/754
PM Minutes 1922/265
H B Kendall, Origin and History of the PM Church, vol 2, p530
W Leary , Directory of Primitive Methodist Ministers and their Circuits , 1990
Census Returns and Births, Marriages & Deaths Registers