Harding, Daniel (1825-1905)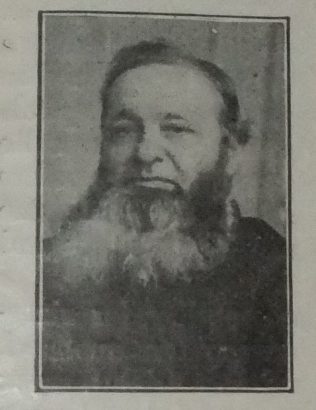 Early years
Daniel was born in 1825 at Melksham, Wiltshire to parents William and Sarah. He was baptised on 20 March 1825 at Melksham. Daniel attended the town school for a basic education. Two brothers also became PM Ministers. Another brother became a well-known lay Methodist in Queensland, Australia. Daniel was a teetotaller from the age of 15.
Daniel was converted at the age of 20 and went on the plan a few months later. Two years after becoming a local preacher he was recommended for itineracy.
Ministry
In 1877, Daniel sat on the Connexional Examining Committee and was District Agent of the Chapel Loan Fund.
In his obituary, Rev. William Rowe writes: 'Though not one of the most brilliant of men, Daniel Harding was a laborious, plodding and successful labourer, and the Church wants more of such.'
Family
Daniel married Alice Foss (1832-1899) in 1855 at Luton. Census records identify four children.
William Daniel (b1857)
Sarah Alice Foss (1861-1936)
Francis Alderwick (1867-1883)
Hedley Thomas (1874-1942) – a bookseller/shopkeeper, later a printer
Daniel died on 28 February 1905 at Newbury, Berkshire.
Circuits
1849 Luton
1850 Farringdon
1852 Salisbury
1853 Witney
1856 Andover
1858 Sturminster
1859 Stratford
1861 Wallingford
1864 Salisbury
1867 Banbury
1870 Newbury
1873 Basingstoke
1876 Wallingford
1880 Newbury
1884 Aylesbury
1888 Brinkworth
1891 Newbury (S)
Obituary
Newbury Weekly News, 9 March 1905
THE LATE REV. D. HARDING: A STRENUOUS MINISTERIAL LIFE
Last week there passed away at Morecambe Villas, Berkeley-road, the Rev. Daniel Harding, an old and respected minister of the Primitive Methodist Connexion.
Born at Melksham in 1825, of parents who were Wesleyan Methodists, Mr. Harding as a young man was brought in association with the Primitive Methodists, among whom he became converted in his twenty first year, and in due course his name was placed upon the preachers' plan. It became manifest, however, that he was designed for a wider sphere of labour than that of a local preacher. His studious habits, his love of reading (Tod's students' manual being the first book to impress him), his devotion to God and zeal for the conversion of others, marked him off as one whom God had designed for the ministry, and obeying the call which came from his church he left his home for the strenuous life of a circuit preacher, and the scanty stipend which was all that the young community struggling into life and extending its operations far and near, could then offer by way of remuneration. From that time he gave himself to the service of God and man, and as a faithful minister of the Word his labours were greatly blessed, and he was able to report additions year by year upon the circuits to which he was appointed. His name appeared on the ministerial list for the first time in 18499, his first appointment being Luton. He subsequently "travelled" at Faringdon, Salisbury, Witney, Andover, Sturminster, Stratford-on-Avon, Wallingford, Salisbury (again), Banbury, Newbury, Basingstoke, Wallingford (again), Newbury (again), Aylesbury and Brinkworth, retiring from the active ranks in 1891, when he settled in Newbury.
He retained through his ministerial life the confidence of his brethren, as proved by the official positions he held; his name was to be found on some of the most important Connexional Committees, and on three occasions was a member of the Annual Conference.
On his retirement he continued to preach. For some time he was conductor of the Band of Hope, and as long as he was able was treasurer of the mothers' meetings. His sympathies and advocacy were given to the temperance cause, which he joined by becoming a pledged abstainer at the age of fifteen. With increasing age and feebleness he had to relax one after another of his public duties, and passed away on the last day of February, in the 80th years of his age.
THE FUNERAL was on Saturday. The remains were conveyed to the Primitive Methodist Church. The service was conducted by the Rev. J. Neville, prayer was offered by the Rev. G.J. Knight, and an address delivered by the Rev. T. Saunders, of Slough, who attended as representative from the Connexional Executive…..
The mourners were Miss Harding (daughter), Mr. and Mrs. Hedley T. Harding (son and daughter-in-law), Rev. Samuel Harding of Glasgow (brother), Rev. Joseph Harding, of Bristol (brother), Captain and Mrs. Parsons of Tunbridge Wells (nephew and niece), and Mr. Turner. Both at the church and graveside many friends gathered, some of whom had come distances.
A memorial service followed on Sunday evening.
[Died 28 February 1905 aged 80. Buried 4 March 1905 Bk 1899 p 097 no. 7969. Also wife Alice died 30 April 1899 aged 66]
Sources
Primitive Methodist Magazine 1877/65 (portrait); 1906/827
PM Minutes 1905/20
H B Kendall, Origin and History of the PM Church, vol  2, p332
W Leary,Directory of Primitive Methodist Ministers and their Circuits , 1990
Census Returns and Births, Marriages & Deaths Registers
Friends of Newtown Road Cemetery