Hunter, George (1834-1916)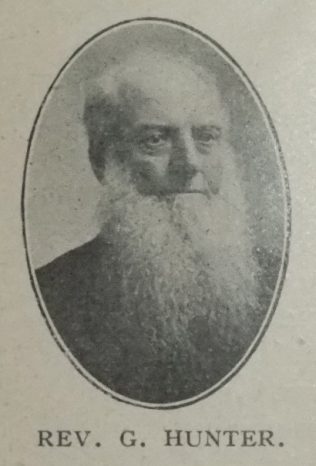 Early years
George was born in 1834 at South Cave, Yorkshire to parents Joshua and Mary. His father died when George was 4. George was baptised on 6 July 1834 at South Cave.
George had to work from the age of 9 to help support the family. George was working as an agricultural servant at Minningdale Farm, Warter, Pocklington, the home of John Harrison, a Wesleyan class leader, at the time of the 1851 census.
George was converted on 6 April 1851.
In 1859, Charles Kendall became ill and George supplied for him at Scarborough.
Ministry
George was a splendid visitor, and a true friend and practical helper in cases of distress.
At Stewkley, George had an interview with Lord Rosebery (who went on to become Prime Minister) for the purpose of obtaining a piece of ground on his estate at Mentmore for a chapel. He got his promise of a piece of land and a donation of £10 towards the chapel.
In the pulpit he was earnest, simple, practical and good. He aimed not at display. He preached not to please the ear and tickle the fancy, but to touch the heart and reach the soul. His sole ambition was to save souls.
Family
George married Mary Thompson (abt1836-1900). Census returns identify two daughters.
Rosanna (1868-1930) – a milliner (1901)
Edith Mary (1870-1942)
George died on 11 June 1916 at Swindon, Wiltshire.
Circuits
1861 Andover
1862 Newbury
1864 Witney
1866 Banbury
1868 Motcombe
1870 Southampton
1873 Salisbury
1875 Micheldever
1878 Winchester
1880 Tadcaster
1882 Chipping Norton
1885 Stewkley
1889 Basingstoke
1892 Andover
1896 Aberdare
1899 Stewkley
1902 Leighton Buzzard (S)
References
Primitive Methodist Magazine 1894/803; 1916/710
PM Minutes 1916/277
W Leary , Directory of Primitive Methodist Ministers and their Circuits , 1990
Census Returns and Births, Marriages & Deaths Registers