Howcroft, Robert Barker (1831-1911)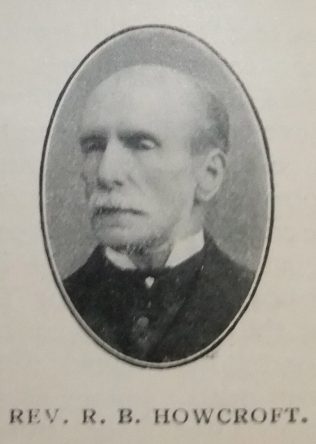 Early years
Robert was born on 6 June 1831 at Leeds, Yorkshire to parents Robert Howcroft and Sarah Barker. He was baptised on 13 September 1831 at St Peter, Leeds. Robert senior was a PM Minister from 1821-1826. At the time of Robert's baptism he was working as a carrier in Leeds. Robert senior later rejoined the Primitive Methodists in 1846 as a local preacher.
His uncle was William Howcroft, an early Primitive Methodist itinerant preacher.
At the age of 10, Robert had a narrow escape from drowning. This gave him the idea that God had some special work for him to do. He was converted when aged 15 whilst attending a class meeting in a cottage. Robert went on the plan as a local preacher in 1853. In 1858 he was called to supply for Rev Charles Jackson at Bury.
In 1851 Robert was working as an apprentice mechanic.
Ministry
The 1889 biography describes Robert as an earnest, acceptable and successful preacher; he is a poet, a lecturer and a warm advocate of the temperance cause; his addresses and lectures sparkle with wit, forceful expression and apt illustrations.
His obituary records that he was fluent of speech, poetic in temperament, possessed the saving gift of humour, as a preacher he was heard gladly and with profit. He was skilful in circuit administration and methodical in business.
Genial and sympathetic, wise in counsel and witty of speech, as a pastor his people found in him a friend, always approachable and always trustworthy.
Family
Robert married Elizabeth Kelly (1836-1902) of the Isle of Man. Census returns identify one child.
Lilian Rebecca (1878-1956) – a music teacher
Robert died on 13 March 1911 at Ramsey, Isle of Man.
Circuits
1859 Liverpool
1860 Chorley
1862 Douglas
1864 Oldham l
1865 Bradwell
1866 Stalybridge
1867 Preston Brook
1868 Bury
1870 Buckley
1873 Lymm
1876 Lancaster
1879 Peel
1881 Ramsey
1884 Wrexham
1885 Maryport
1888 Dalton
1889 Blaenavon
1893 Knaresborough
1896 Bottesford
1899 Ramsey (Sup)
References
Primitive Methodist Magazine 1889/193; 1912/76
PM Minutes 1911/26
W Leary , Directory of Primitive Methodist Ministers and their Circuits , 1990
Census Returns and Births, Marriages & Deaths Registers