Wright, James (1820-1900)
Of Glazebury, Leigh Circuit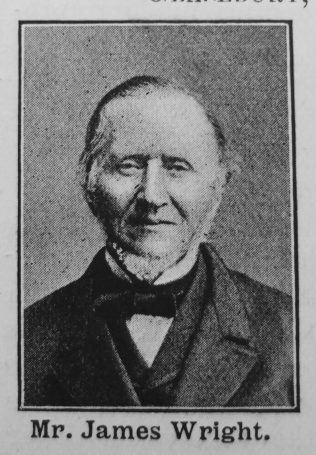 Transcription of Obituary In the Primitive Methodist Magazine by Enoch Shepherd
James Wright was born at Glazebury, July 3rd, 1820. His father was a pioneer of Primitive Methodism in this neighbourhood. His house was frequently visited by the earlier ministers of our Church. Thus our brother was brought under religious influences while quite young. As a youth he was fond of fun and frolic, and forming a companionship with some of the wilder spirits of the village, he stifled the convictions of the Holy Spirit, and became for a time rather wild and reckless.
Under a sermon preached by the Rev. David Tuton he was profoundly impressed. After a terrible struggle he left his old companions, gave himself to Christ and his Church. When married his own house was opened to the Lord's servants, and it was one of the chief joys of his life to welcome them to the best hospitality he could offer. No distinction was made between ministers and laymen, all alike being received, and highly esteemed for their works sake.
The following are a few of the salient features of our brothers character. He was noted for his inflexible constancy and a blameless reputation. His loyalty to our Church was most marked. He was a man of prayer. Morning, noon, and night he retired to his room to wait upon God. Nothing was allowed to interfere with this holy custom. He was pre-eminently a man of one book – the Bible.
A few months before his death there sprang up in the hearts of our people a desire to show in some way their sense of appreciation of the invaluable service he had rendered to our Church and School. The writer was requested tp prepare an illuminated address to be presented to him. An extract from this address will give some idea of the work he did: "For the long period of seventy-four years you have been connected with the school; for fifty-eight years a member of the Church; for twenty years society steward; for twenty-three years class leader; and for twenty years superintendent of the school. For this long time you have been hospitable and liberal, consistent in conduct, and untiring in your efforts to promote the interests of both Church and School." All arrangements were made to present this address, together with a silver medal. When the day came he was unable to leave his home through sickness. A little later, as it became evident the end was inevitably coming, the address and medal were presented to him as he lay on his death-bed. This expression of appreciation of his life-work was very welcome, and as far as he had power, appreciated to the full. No medal and address could be more worthily bestowed. He died possessed of the peace of God, and full of glorious anticipation, on January 3rd. 1900, in his eightieth year. He left a widow and six sons, all loyal and devoted workers in our Church.
Family
James was baptised on 9 September 1820 at St Mary, Leigh, Lancashire. His parents were James, a weaver, and Betty.
Census returns identify the following occupations for James.
1851 warehouseman
1861 agent at cotton mill
1871 overlooker at factory
1881 cotton warehouseman
1891 warehouseman (retired)
James was married to Maria (abt 1822-1903). Census returns identify six children.
John (b1853) – a PM Minister (1879-1891); a grocer's carter (1901); farm labourer (1911)
James (1855-1945) – a PM Minister
Peter (1857-1939) – a translator for glass manufacturer (1911)
Joseph (abt1860-1938) – a tailor (1911)
David (1862-1942) – a railway goods checker (1911)
William (1864-1940) – a warehouseman as glassworks (1901)
References
Primitive Methodist Magazine 1902/468
Census Returns and Births, Marriages & Deaths Registers