Worth, Grace (nee Tremethick, nee Richards) (1831-1910)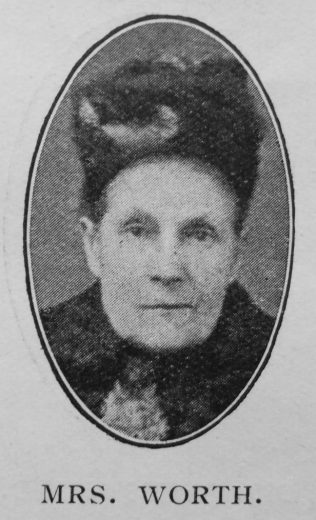 Transcription of obituary published in the Primitive Methodist Magazine by J.R.T.
Grace, the beloved wife of the Rev. H. Worth, of the Eleven Lane Ends Church in the Leeds 5th Circuit, entered into the rest that remaineth on January 13th, 1910, in the 80th year of her age. Converted in her early youth, she joined the society at Newlyn in the Penzance and St. Ives Circuit. The services and worship of the Sanctuary were a continual delight, and the fellowship of the Church was specially cherished and prized. 
For some years she was the leader of an important Class. Having married, her home was ever open for the entertainment of God's servants, and in many gracious, kindly ways did she show her devotion to the ministers of our Church. Among many who shared her hospitality was the honoured and beloved Rev. R. Hartley, uncle of Sir W.P. Hartley. 
Having lost her first husband, she remained a widow for years, then was married to Rev. H. Worth in October, 1898. In her new home in Leeds she manifested the same active interest and took the same keen delight in everything relating to the prosperity of Zion, as had characterised her quieter life in Cornwall. 
Her later years were full of painful affliction and suffering infirmities, physical exhaustion being accentuated by deprivation of sight. Amid increasing and distressing afflictions she found much comfort from the reading of the Scriptures, the conversation of Christian friends, and prayer. Her confidence in God was unwavering, and her faith caused her to triumph in Jesus Christ her Saviour. On January 10th a stroke supervened and, although she lingered until the 13th, consciousness never returned, and thus she passed away from pain and darkness into the ineffable and glorious light and perfection of immortality. Her body was laid to rest in the Bromley Baptist Cemetery, the Revs. J.R. Tranmer, W.R. Fallas, W.M. Kelley, and T. Buttrick taking part.
Family
Grace was born abt1831 at Paul, Cornwall, to parents William, a fisherman, and Ann.
She married Samuel Cotton Tremethick (1828-1890), a fisherman, on 10 November 1850 at Paul, Cornwall.
She married Henry Worth (1835-1915), a PM minister, in late 1898 at Leeds, Yorkshire.
Grace died on 13 January 1910 at Leeds, Yorkshire.
References
Primitive Methodist Magazine 1910/491
Census Returns and Births, Marriages & Deaths Registers