Smith, Edwin William D.D. (1876-1957)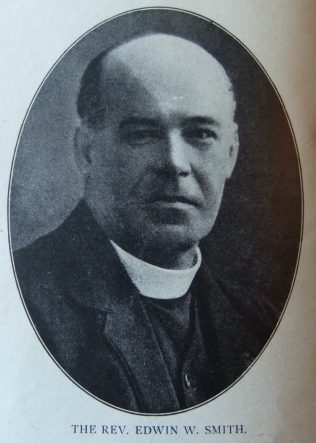 Early years
Edwin was born in 1876 at Aliwal North, South Africa, to parents John Smith and Fanny Elizabeth Jeary. John was a PM Minister.
Edwin returned to England for education at Elmfield College.
Ministry
Edwin spent much of his ministry as a missionary in Africa. His aim as a missionary was put on record. "Whether one is to teach or govern, one's first duty is to understand the people."
In 1902 Edwin led the pioneer mission to the Ba-Ila, in Northern Rhodesia.
Edwin served at the front as Chaplain during WW1. He was then offered and accepted the position of Secretary for Italy of the British and Foreign Bible Society. Subsequently he was Secretary for Western Europe and then Literary Superintendent.
On retirement, Edwin gave four fruitful years to Negro College in the United States, fostering African studies.
Edwin won international recognition as an anthropologist. He was for two years President of the Royal Anthropological Institute, was Myers Lecturer, and was awarded the Pitt Rivers Memorial Medal. It was a particular satisfaction to him that he was the first missionary to receive these distinctions. He was also honoured by the Royal Africa Society, with its silver medal. Edwin was one of the founders of the International African Institute. His degree of Doctor of Divinity was awarded by Toronto University.
His obituary records that Edwin was cast in a large mould. His native abilities were remarkable, for he achieved his acknowledged scholarship with scarcely any academic training. His industry was enormous; he was thorough in all he undertook. He read widely and in many languages. Next to the Bible, he loved Dante and studied him deeply. With all his attainments he remained essentially humble minded, and he was of a most generous and sympathetic spirit.
Literature.
Edwin authored the following.
The secret of the African
A handbook of the Ila language (commonly called the Seshukulumbwe) spoken in North-western Rhodesia, South-central Africa, 1907
The Ila-speaking peoples of Northern Rhodesia, vol.I, 1920
The religion of lower races, as illustrated by the African Bantu, 1923
Robert Moffatt: one of God's gardeners, 1925
The golden stool: some aspects of the conflict of cultures in modern Africa, 1926
The way of the white fields in Rhodesia: a survey of Christian enterprise in Northern and Southern Rhodesia, 1928
The shrine of a people's soul, 1929
Aggrey of Africa; a study in black and white, 1929
The story of B.F.B.S., 1930
Tales of God's packmen, 1933
African beliefs and Christian faith: an introduction to theology for African students, evangelists and pastors, 1936
Knowing the African, 1946
The life and times of Daniel Lindley, 1801-80, 1949
Family
Edwin married Julia Anna Fitch (1873-1952) in 1899 at Cape Town, South Africa. Records identify one child.
Kathleen Matsediso Aline (1904-1986) – married Howard Jones in 1929
Edwin died on 23 December 1957 at Deal, Kent.
Circuits
1898 Aliwal North
1902 Nanzela
1908 Mexborough
1909 Kasenga
1915 Chaplain, H.M. Forces
1916 B.F.B. Soc
1939 Supernum
References
Primitive Methodist Magazine 1917/266; 1925/742
Methodist Minutes 1958/182
R Newman Wycherley, The Pageantry of Methodist Union, 1932, p331
W Leary, Directory of Primitive Methodist Ministers and their Circuits, 1990
Census Returns and Births, Marriages & Deaths Registers
Further Reading
J M Potter, E. W. Smith and the work of the Primitive Methodists among the Ila, 1975
W J Young, The quiet wise spirit: Edwin W. Smith 1876-1957 and Africa, 2002