Herod, Elizabeth (nee Parrott) (1796-1871)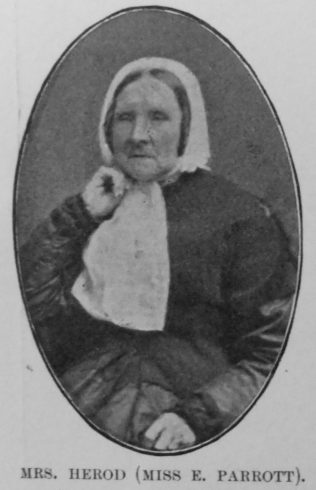 Transcription of obituary published in the Primitive Methodist Magazine by F Smith
"The memory of tho just is blessed." A tribute is due to departed worth, to one who was the "salt of the earth, and a light of the world." Let a few things about this woman be told for a memorial of her. "The name of the wicked shall rot, but the righteous shall be had in everlasting remembrance,"
ELIZABETH, wife of the REV. G. HEROD, was born at Basford, near Nottingham, on the 26th of February, 1796, and departed this life on the 15th of January, 1871, at Helmshore, in the Haslingden first circuit. Her parents were Wesleyans, and entertained the ministers, who beneficially impressed our sister with their fervent piety. At the age of seven years she was considerably concerned fur her soul's salvation, often retiring to the fields for prayer, &c. At twelve years of age she was painfully distressed lest fever should carry her off unpardoned and lost. Then for the next five years she unremittingly sought pardoning mercy.
Business now called her to reside with a relative in Nottingham, where, invited to attend class, the leader strove to shew her that the atonement was hers, and she was filled with joy and peace in believing. Twelve months after this she returned home. The early ministers of our body missioned the village. A brother, her late husband, and many others were converted. The preachers stayed at her father's, a class was formed, our sister and some others of the family joined it, and her father eventually became the leader. After marriage she and her late husband prepared for business, but unexpectedly to both he entered the Primitive Methodist ministry. This young housekeeper would have her skill sorely tried, as the salary was then only ten shillings per week for everything. She often found that ends would not meet; and more than once they knew not where the next meal was to come from. But it appears that a kind providence impressed unknown and known persons to visit and relieve them repeatedly. No doubt sister Herod was a good wife giving her husband his proper position in the family, and as far as circumstances allowed minding well her own.
She was also a great helper in her husband's work, cheering him in perplexities and trials, insisting upon looking upon the bright side of things, and accompanying him in breaking up "fallow ground." For instance, Nottingham quarterly meeting appointed him to mission Louth and its vicinity; a friend took care of her child. There being no railways, and unable to afford a conveyance, they, luggage in hand, trudged many a weary mile, till they were benighted and knew not where they were; she sat down on the luggage and wept, yea, bitterly she wept as she thought of her child and circumstances; her husband climbed high ground to look for a light. They came to one at a farm house; it happened to be a Wesleyan local preacher's, who fed and lodged them for the night, and afterwards assisted them in their work. The child was well cared for, the mission was a success, seven souls being saved under her first sermon on that missionary tour. Our sister was for many years a local preacher, and a class leader for upwards of forty years, a good visitor of the sick, and always made herself very active and useful in the various means of grace. For these labours of love she was well adapted, professing the inestimable blessing of entire sanctification. She was distinguished by stubborn faith, prevailing power in prayer, and was always zealously affected in good things. Some hold it as a candid opinion that our sister possessed a strong, clear, and well informed mind, that she could preach with much acceptability; and that judging from her superior talents, good taste, sound judgment, choice language, amiable disposition, deep piety, abounding zeal, and the general tenor of her life and labours, had she been better or well educated, and privileged to moved in cultured society, she might have become a Florence Nightingale or a Mrs. Judson of sainted memory.
In 1862 she lost her husband. For two years afflicted more or less with bronchitis and unable to labour in the good cause except to lead her flourishing class, she often longed "To see her Father's face, and in his bosom rest." But she realized it sooner than we expected. The day before she died we had not the slightest idea that she was unlikely to survive the winter; but a relapse set in through a renewed cold. She asked some one  to sing ''Just as I am, &c.," Others stayed and cheered her with Holy Writ; and on Sunday evening her "quite happy" spirit joined the church triumphant. Surely no one can read the history of our early ministers and their wives, observing their arduous toils and hard fare, their unflagging devotion in spite of hardships, persecutions, and withal their grand successes, without being convinced that they were workers whose hearts God had touched, and that they began and continued their self-sacrificing toils purely from love to perishing souls and zeal for the Divine glory. They were glorious pioneers of the Gospel in the moral wastes of our country, and deserve a high niche in the temple of Christian fame, and to be embalmed in the affectionate memory of the Connexion and of the universal Church of Christ.
From sister Herod's papers we notice that she desired that the Christian kindness and liberality of J. Whitaker, Esq., and of his estimable wife should be made known in the Connexion. They generously allowed herself and husband "Rose Cottage," and a garden made on purpose for them at considerable expense, rent free from the time of his superannuation in 1862 till her death, to which might be added many other acts of kindness more substantial still, and for which, together with their high Christian character, our sister has left on record a-high and grateful tribute. For a good reason we add, that at Mrs. Herod's repeated request they took the sole responsibility of the funeral upon them, and that, considering the trouble, and especially certain private circumstances known to the writer, they faithfully and with unqualified credit to themselves and family, executed their trust.
Her large class of young women, a goodly number of friends from Helmshore and Foxhill Bank Societies, together with some of her relatives, followed her body to the grave of her child at Foxhill Bank Chapel. The writer improved her death to a deeply interested congregation, many coming some distance out of respect to the departed.
"Death is the crown of life,
'Tis the entrance to our home,
'Tis the passage to that God,
Who bids his children come,
When their weary course is trod."
Family
Elizabeth was born on 26 February 1796 at Basford, Nottinghamshire.
She married George Herod (1797-1862) on 21 April 1819 at Great Bridgford, Nottinghamshire.
Elizabeth died on 15 January 1871 at Helmshoire, Haslingden, Lancashire.
References
Primitive Methodist Magazine 1872/177
W Leary, Directory of Primitive Methodist Ministers and their Circuits, 1990
Census Returns and Births, Marriages & Deaths Registers