Walton, Robert (1855-1926)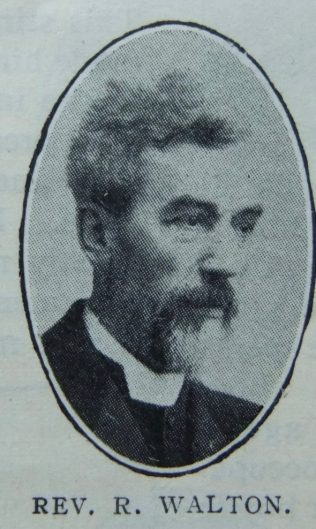 Early years
Robert was born in 1855 at Blenkinsop, nr Greenhead, Northumberland.
Before entering the ministry Robert was a student of Sunderland College.
Ministry
When he' superannuated in 1920 he came to live at Morpeth, Northumberland. And at first it seemed as though a long period of freedom from circuit responsibilities was before him. He was, to all appearances, strong and healthy, and he delighted in open-air life. During his first year in Morpeth he did much preaching, both in our own and in Presbyterian churches. But shortly after his retirement his beloved wife was taken from him by death. His grief was very great, for she had ever been to him a gracious inspiration and help. It soon became evident that his seemingly powerful frame was suffering the effects of a serious accident which had befallen him in his last circuit He fell on the steps of one of the churches in Rhymney Valley and injured his spine. He seemed to have made a remarkable recovery but it now became realised that the results of the accident were serious and far-reaching. Gradually he became unable to take any active part in public life and his closing years were spent quietly in retirement.
As a preacher, Mr. Walton was entirely evangelical. To save man from sin and to build up a living Church were his steadfast aims. During his ministry he devoted much thought and time to the young people, endeavouring to help them towards both mental and spiritual advancement. He will be remembered ever, in the circuits wherein he laboured, by all those who appreciate sincere manliness and ardent evangelicalism.
He was a student of Nature and delighted in her wondrous works. His hobby was fishing. A quiet country village and peaceful stream afforded him the greatest pleasure. His joy was not in the crowded holiday resort, but "Far from the madding crowd's ignoble strife," where he might keep "the noiseless of his way."
Family
Robert married Annie Richardson (abt1862-1921) in the spring of 1883 at Darlington, Co. Durham. Census returns identify six children.
Cleveland Nelson (1886-1957) – a solicitor's managing clerk (1926)
Amy (b1888)
Stanley (b abt1890) – a student teacher (1911)
Teesdale (1892-1915) – an apprentice engineer (1911); died in WW1
Florrie (b1895-) – a milliner's apprentice (1911)
Annie (b1898)
Robert died on 22 January 1926 at Morpeth, Northumberland.
Circuits
Sunderland
1878 Whitby
1879 Lowick
1882 Darlington
1883 Guisborough
1887 Hetton
1890 Eston
1893 Westgate
1898 Brough
1903 Thornley
1908 Langley Moor
1914 Guisborough
1916 Canterbury
1919 Cardiff
1920 Morpeth (Sup)
References
PM Minutes 1926/291
W Leary, Directory of Primitive Methodist Ministers and their Circuits, 1990
Census Returns and Births, Marriages & Deaths Registers