Wagstaffe, Thomas Anthony (1856-1906)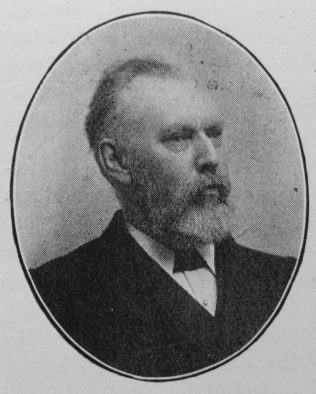 Transcription of Obituary in the Primitive Methodist Magazine by S.A. Barron
The Rev. Thos. Anthony Wagstaffe was born at Chesterfield, Oct. 24th, 1856, and translated to the heavenly life May 15th, 1906. He came of a good stock; parents and grandparents were worthy Primitive Methodists, and his father a useful local preacher. When thirteen years of age our brother heard and answered the Divine call and joined the church. In due course he became a local preacher, and such were his gifts, graces and fruit, that in 1881 he was called to the ministry. At the request of the General Missionary Committee he acted as supply in Walthamstow, Tunbridge Wells, Hastings, Redhill, Maldon, Buckingham (Stoney Stratford), and Nottingham I. where he was assistant to Dr. Samuel Antliff, who held him in high esteem. In several of these places remarkable revivals took place. At Nottingham the writer was privileged with his intimate friendship, living for twelve months in the same home. To that probationary comradeship he owes more than he is able to express. We read, prayed, believed together, and rejoiced over the days of grace that came to our respective circuits in that most blessed year. The deepened spiritual insight, found in those days, has been a source of strength in all the later years. At the close of his probation Mr. Wagstaffe married Miss E. Brown, of Chesterfield, who, besides making him a happy home, has rendered devoted service on his various circuits, and made herself widely beloved and respected.
Mr. Wagstaffe's subsequent circuits were Nottingham IV., Tunstall (Burslem), Lowestoft, King's Lynn, Mansfield, Derby I. and Derby IV. His later years fulfilled the promise of his successful beginning. Along the line of his own gifts and ideals, he wrought strenuously and well. He was not called to intellectual research, popular advocacy, or denominational statesmanship. But as an earnest and useful preacher, a friend and pastor in the homes of the people, a gifted open-air speaker, a successful evangelist, a worker in all noble causes, a good minister of Jesus Christ, his name is fragrant in every place where he has laboured. Rev. A.T. Wardle writes of his "fine and successful service" at Lynn. Rev. J.H. Hemshall tells of his "crystal purity, his sincerity, his unpretentious goodness, his unfaltering faith, his simple speech, his evangelistic enthusiasm and devotion."
Of a bright and cheerful disposition, full of humour and good spirits, and with great social gifts, Mr. Wagstaffe made troops of friends wherever he went. He had a capacity for ready and generous appreciation, was quick to commend and encourage, and untainted by ignoble jealousies. Attentive to the afflicted, patient with the wayward, and watchful for the awakened, he was a man greatly beloved, and his monument is in the affection with which his memory is cherished.
"To live in hearts we leave behind us
Is not to die"
Heart weakness followed a severe illness at Lynn, which manifested itself in a prostrating form after prolonged evangelistic efforts in 1903. After a few weeks' rest he resumed his work, and attended the Scarborough Conference as a delegate. The heart trouble, however, proved chronic, and he was applying to the Conference for a year's rest. His work, however, was done. Against an attack of erysipelas the heart was unable to contend, and his life was brought to a close. His last conscious words were words of trust and praise. The funeral service in Dale Road Church, Derby, was largely attended, evidencing the widespread regard for his excellencies and grief at his loss. Besides deputations from churches of the town and from former circuits, the Derby Temperance Society and the Liberal Association were represented. It was an impressive tribute to a noble and devoted life. The Rev. G.G. Martindale subsequently conducted a memorial service in the Dale Road Church. All too soon, as it seems to us, our friend's work is done. But we reverently and trustfully say, "Thy will be done," and look onward to the time when our fellowship, now for a brief space interrupted, shall, under more glorious conditions, be resumed.
Family
Thomas was born on 24 October 1856 at Chesterfield, Derbyshire, to parents Thomas, a rural messenger (1871), and Frances.
He married Emily Elizabeth Brown (1859-1938) in the summer of 1887 at Southwark, London. Census returns identify two children.
Ellen Frances (1890-1977) – a dressmaker (1911); a gown fitter (1939)
Reginald Thomas (1896-1976) – a junior clerk (1911); later a PM Minister
Thomas died on 15 May 1906 at Derby.
Circuits
1881 Walthamstow
1882 Tunbridge Wells
1883 Maidstone
1884 Buckingham
1885 Hastings
1886 Nottingham I
1887 Nottingham IV
1889 Tunstall
1892 Lowestoft
1894 Wymondham
1895 Lynn
1898 Mansfield
1901 Derby
References
Primitive Methodist Magazine 1907/821
PM Minutes 1906/25
W Leary, Directory of Primitive Methodist Ministers and their Circuits, 1990
Census Returns and Births, Marriages & Deaths Registers