Bridge, Stanley Kirkland, B.A. (1904-1953)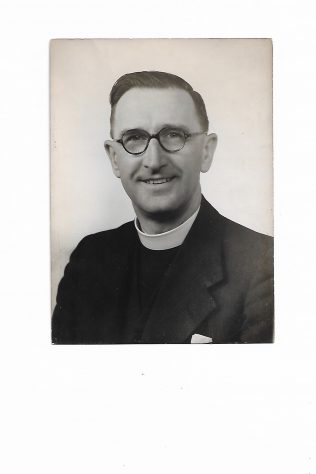 Picture provided by Stanley's son, Gordon Bridge
Transcription of obituary published in the Minutes of Conference
STANLEY KIRKLAND BRIDGE B.A.: born at Liverpool in 1904. He was educated at Liverpool Institute, and after training at Hartley College he entered the ministry in 1931. Beginning at Great Yarmouth (Temple), he gave devoted service in the following circuits—Bolton (Moor Lane), Sheffield (Ecclesall), Sheffield (North), and Leeds Mission. In every place his ministry was richly blessed. 
His genius for friendship was the means of leading many to a closer relationship with his Lord. He used all his talents in the service of his Master. His genial disposition was a key to some hearts which otherwise might have been closed to the Gospel. His preaching was scholarly and evangelistic, and he proved himself a great missioner during his seven years at Oxford Place, Leeds, In the last of those years he was Chairman of the Leeds District—an indication of the place he deservedly held in the love and esteem of his brethren. 
In 1952 he was called to be District Missionary and Chairman of the Stoke-on-Trent and Macclesfield District. Here he displayed his skill and patience in dealing with the many problems of redundancy, and in the administration of the District affairs. He did not spare himself, and served village and town causes with equal devotion, He quickly won the hearts of his people throughout the District. Richly blessed in his home life, he was always ready to share it with old and young, and there are many who are thankful for the encouragement and fellowship they found there. On 5th September 1953, when he was eagerly looking forward to the Synod and preparing for another year of happy ministry, he was suddenly called home at the early age of forty-nine, in the twenty-third year of his ministry.
Family
Stanley was born in 1904 at Liverpool, Lancashire, to parents Thomas Stanley Bridge, a district manager of an insurance company, and Annie Louisa Kirkland. He was baptised on 16 October 1904 at Jubilee Drive PM Chapel, Liverpool.
He married Marjorie Mortimer Owain-Jones (1906-1993) in the summer of 1934 at Liverpool. Birth records identify three sons.
Stanley died on 5 September 1953 at Stoke on Trent, Staffordshire.
Circuits
Hartley
1931 Yarmouth Temple
1934 Bolton Moor Lane
1937 Sheffield Ecclesall
1942 Sheffield North
1945 Leeds Mission
1952 Stoke (District Mission)
References
Methodist Minutes 1954/119
W Leary, Directory of Primitive Methodist Ministers and their Circuits, 1990
Census Returns and Births, Marriages & Deaths Registers