Betts, Robert (1829-1910)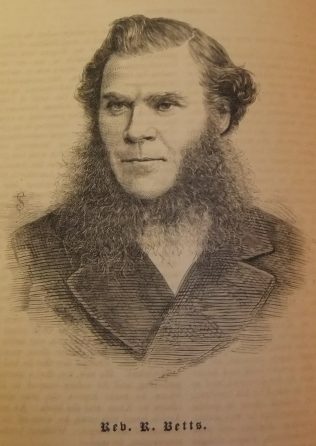 Early years
Robert was born in 1829 at Yaxley, Suffolk. He was baptised on 3 May 1829 at Yaxley. His mother, Ann, was a lace weaver.
Robert's parents were poor, so at the earliest age possible he had to help the household income by the earnings of farm service. In 1851 Robert was working as a farm labourer.
Ministry
Robert's obituary records that he had a close association with Robert Key. So intense was their intimacy that it was common practice for one to speak about 'Father Key' and the other about his 'Son Yorbet'.
Robert's ambitions began and ended with his circuits. It was in the pulpit, not in the committee room, that he came to his own – that he was seen to best advantage. In every sense of the word, he was a master of assemblies, a man who could sway the crowd.
Careful preparation lay at the back of his public efforts, but once upon his feet he needed no further regard for the exact ipsissima verba of his manuscript.
Ritualism and sacredotalism wherever revealed aroused his intensest opposition, and called forth his most unsparing invectives, almost too unsparing, one has sometimes felt.
Family
Robert married Matilda Collins (1834-1929) in the summer of 1859 at Norwich, Norfolk. Census returns identify six children. (The 1911 census records Matilda had eight children, 3 of whom had died before the 1911 census.)
Alice Matilda (1861-1943) – a teacher of music
James Wallace (b1863)
Louisa Jane (1868-1920) – married William Hildyard, a chemist
Kate (1870-1955) – married Arthur Edward W Smithdale, a mechanical engineer
Arthur Edwin (1873-1943) – a life assurance agent (1911)
Violet Clarissa (b1875) – married John Robb Andrew, a grocer, and later married Robert Granger.
Robert died in 1911 at Thetford, Norfolk.
Circuits
1855 Brandon
1857 Yarmouth
1858 Cambridge
1859 Fakenham
1861 Briston
1864 Brandon
1867 Norwich
1869 St Ives, Hunts
1870 N Walsham
1876 Ipswich
1877 E Dereham
1880 Bury St Edmunds
1883 N Walsham
1889 Diss
1890 Acle
1893 Wangford
1895 Lynn
1899 Acle (Sup)
1905 Thetford
References
Primitive Methodist Magazine 1883 (portrait)
PM Minutes 1911/20
W Leary , Directory of Primitive Methodist Ministers and their Circuits , 1990
Census Returns and Births, Marriages & Deaths Registers
Downloads
Transcription of an article in the Christian Messenger 1915