Baron, Thomas (1824-1903)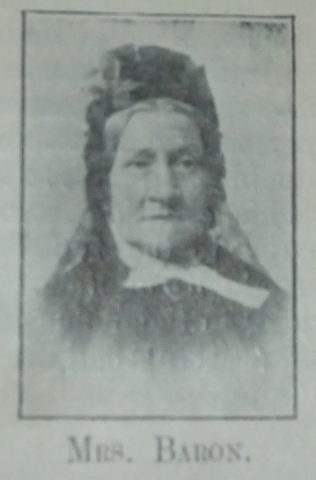 Early years
Thomas was born on 13 August 1824 at Silsden, Yorkshire to parents George and Ann. He was baptised on 15 August 1824 at Silsden. Thomas received a good elementary education in the secular schools of the neighbourhood. One of his teachers was the father of John Flesher.
Thomas attended an Anglican Sunday School for some time as a child. He was converted at the age of 15. James Macpherson was one of the preachers.
For a short time Thomas was engaged in the Book Room at Bemersley and lived with Hugh and James Bourne. Kendall records that one of his duties early each weekday morning was to carry the post bag with Book Room letters for dispatch two miles to Norton, and to call at a public house for letters which had been left there for the Book Room. His older brother George Baron, who often acted as Connexional Auditor, frequently paid visits to the Book Room and his business aptitude was of great assistance to James Bourne.
In 1845 he went to Pateley Bridge to supply for James Watson and then moved to Thirsk for a year before becoming itinerant.
Ministry
His obituary records that under his ministry many chapels were built, crushing debts reduced and some circuits apparently saved from bankruptcy by his toil.
His intellect was both clear and strong and by ceaseless study he made himself a workman without need of shame.
Family
Thomas married Mary Ann Peacock (1821-1900) in 1850 at Thirsk, Yorkshire. Census returns identify two children.
William Beevers (1854-1879) – apprenticed to a chemist in 1871
Sarah Jane Peacock (1863-1947) – an art needleworker in 1911
Thomas died on 27 October 1903 at Wigston Magna, Leicestershire.
Circuits
1846 Ripon
1847 Barnard Castle
1848 Belper
1849 Bridgeford
1850 Nottingham
1851 Sleaford
1853 Uttoxeter
1855 Leicester l
1857 Mansfield
1859 Bottesford
1861 Derby
1863 Horncastle
1870 Loughborough
1873 Leicester ll
1877 Newark
1880 Burton on Trent
1881 Keighley l
1884 Hastings
1886 Haywards heath
1889 Leicester ll (S)
References
Primitive Methodist Magazine 1874 (portrait); 1905/657
PM Minutes 1904/8
H B Kendall, Origin and History of the PM Church, vol 2, p8
W Leary,Directory of Primitive Methodist Ministers and their Circuits , 1990
Census Returns and Births, Marriages & Deaths Registers