Bennett, William (1830-1899)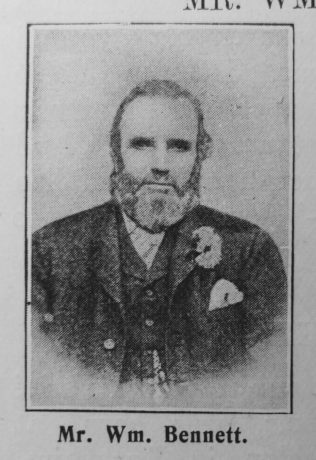 Transcription of Obituary In the Primitive Methodist Magazine by D.O. (David Oakley)
KIDDERMINSTER circuit has suffered great loss in the death of Mr. Wm. Bennett. His parents were faithful members of our Cross Street Church, and hence he was early brought to our school. He was thus a life-long member of this church. He was born September 4th, 1830, and died September 16th, 1899.
He was a man of generosity, of faithful genuine piety, unbounded friend to the Ministers, and a man of peace.
He stood faithfully by the church of his choice in its days of weakness and financial difficulties. Dearly did he love his church, his prayers, thoughts, money, and personal service were ever given her.
For many years he had earnestly desired, with others to see a new church and schools erected, but, upon the eve of its accomplishment, he died without the sight.
Who shall deny that maybe he is permitted to behold from the home above the achievement of what was so close to his heart.
For seventeen years he held the office of Circuit Steward, which office he held till his death. In this capacity he gained the confidence and the love of his brethren. Well do we remember, during his last illness, how he made an effort to meet once more his brethren at the Quarterly Meeting. Like Jacob who said of his beloved Joseph in Egypt, "I will go and see him before I die," so our dear brother desired to see those with whom he had laboured so long. What a prayer he offered, that God would be with us as he was with our fathers.
After two and a-half years' painful illness he fell asleep in Jesus, September 16th, 1899. He was patient in suffering, and waiting joyfully his Master's coming. His death-bed was glorious. He died well. "How blest the righteous when he dies! "
Hundreds attended his funeral and also his memorial service. The Rev. David Oakley preached the sermon from the text, "The memory of the just is blessed," and sought to show that our memory will only be blessed if our life has been a blessing.
People of all churches respected our departed brother, for his long years of uprightness and Christian character silently told upon all with whom he had to do. He has left behind a widow who for 46 years shared his joys and sorrows, and also two sons. His was a noble testimony to the sufficiency of Christianity to all periods in all circumstances of life. And now, having served his generation, he has fallen asleep and gone to be – "Forever with the Lord."
Family
William was baptised Job William Bennett on 23 May 1831 at Kidderminster. His parents were John, a coal dealer (1841) and Mary Ann.
Census returns identify William as a coal dealer with the exception of 1861, where he is described as a boatman.
He married Alice Pountney (abt1832-1907) in the spring of 1855 at Kidderminster, Worcestershire. Census returns identify two children.
William John (1856-1908) – a coal merchant
Thomas (abt1865-1932) – a coal merchant
References
Primitive Methodist Magazine 1902/233
Census Returns and Births, Marriages & Deaths Registers