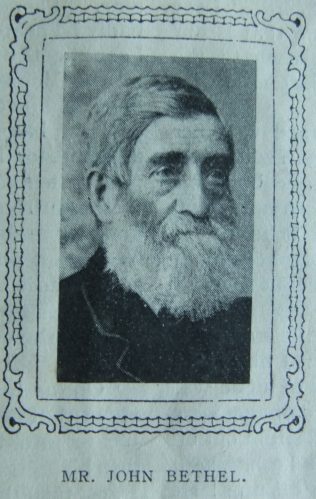 Transcription of 'Sketch' In the Christian Messenger
No name is better known or respected in the neighbourhood of Stocksbridge, Sheffield Second Circuit, than that of John Bethel, the grand old man of Stocksbridge Primitive Methodism. He became connected with our church forty-six years ago, having previously been a member at Stalybridge, and is one of the few trustworthy veterans remaining who have stood true to our church from its infancy. He loved his church, and gave his best of thought and labour for her success. In the early days of our church at Stocksbridge, when the property was heavily burdened by debt, filling the Trustees with great concern, the love and loyalty of our brother and of his noble wife led them to undertake the position of caretakers, which they retained for many years without salary, until the debt was considerably reduced. As an enthusiastic worker he was distinguished in several departments. He was Sunday school superintendent for thirty years, and exerted an influence over the young life of the church which lives to-day. He was a great lover of the Band of Hope movement, a staunch teetotaller nearly all his life, and a member of the I.O. Rechabites for over sixty years. He was never ashamed of his principles. Often, when asked how he was, he would humourously reply, "I'm just sober." John Bethel also distinguished himself as a Class leader, which office in this department reveals the firmness of his faith in the value of the Class meeting as a means of grace; its utility in the building up of Christian character, and as a recruiting ground for Christian workers. He is now eighty-four years of age, but his interest in the cause never wanes.
Family and other information
John was born abt 1827 at Failsworth, Lancashire, to parents William and Jenny. He was baptised on 15 April 1827 at All Saints, Newton, nr Manchester, Lancashire.
Census returns identify the following occupations for John.
1851 weaver
1861 cotton weaver
1871 labourer
1881 labourer in ironworks
1891 living on own means
1901 retired wire cutter
1911 wire cutter (pensioned)
John married Harriet Crossland (abt1828-1890) in the summer of 1850 in the Ashton-under-Lyne Registration District. Census returns identify four children.
William (1852-1895) – a wire drawer
Alice Ann (b1858) – married Albert Evans Hill, a wire drawer, in 1879
Mary Crossland (1860-1875)
Elizabeth (abt1868-1900) – married Joe Briggs, a hammer driver, in 1890
John died on 28 August 1914 at Stocksbridge, Yorkshire
References
Christian Messenger 1912/91
Primitive Methodist Magazine 1915/583
Census Returns and Births, Marriages & Deaths Registers